At a Glance
Description
Does the present global economic crisis compare to the Great Depression? Investigate more than 20,000 objects, documents, lesson plans, and images about the New Deal and decide.
Website
Producer
Franklin and Eleanor Roosevelt Institute and Institute for Learning Technologies, Teachers College, Columbia University
New Deal Network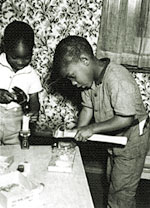 Offering more than 20,000 items, this website focuses on objects, documents, and images relevant to the New Deal. The Document Library contains more than 900 newspaper and journal articles, speeches, letters, reports, advertisements, and other textual materials that treat a broad array of subjects. They place special emphasis on relief agencies and issues relating to labor, education, agriculture, the Supreme Court, and African Americans. The Photo Gallery presents more than 5,000 images. The Magpie Sings the Depression presents poems, articles, short stories, and graphics from a Bronx high school journal. Dear Mrs. Roosevelt presents letters written by young people to the First Lady. (Also see our Lesson Plan Review of Children's Letters to Mrs. Roosevelt.)
Photographs, graphics, cartoons, memoirs, autobiographical essays, and a 20,000-word essay on campus radicalism complete the Student Activism in the 1930s section. The website also provides speeches and articles by Henry Wallace, a photo-documentary on a small Alabama town, and materials on the Federal Theatre Project, Tennessee Valley Authority, the Civilian Conservation Corps, and the National Youth Administration.