At a Glance
Description
Browse the complete 14-volume set of Washington's papers.
Producer
University of Illinois Press, History Cooperative
Booker T. Washington Papers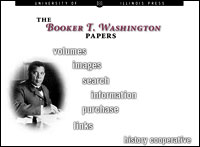 Booker T. Washington, born a slave in Virginia, became a central figure in the quest for education and equality for African Americans after the Civil War. In 1881, he founded the Tuskegee Normal and Industrial Institute in Alabama and became an influential educator and leader. Washington promoted vocational education for African Americans and was criticized for cultivating white approval.
The complete 14-volume set of Washington's papers is available on this website, including the well known "Atlanta Compromise Address" and his autobiography Up From Slavery. Texts include books, articles, speeches, and correspondence covering the years 1860 to 1915, and can be searched by keyword. The site also includes hundreds of photographs and illustrations collected in six volumes that accompany the texts.