At a Glance
Description
Where would you live as a returning World War II veteran?
Producer
Peter Bacon Hales, Art History Department, University of Illinois at Chicago
Levittown: Documents of an Ideal American Suburb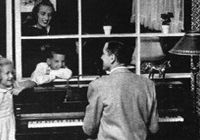 Part of a larger project, this site presents the social, cultural, and visual history of Levittown, a postwar American suburb. Archetypal of post-World War II suburban living, Levittown was built to provide affordable single-family housing to returning soldiers and their families in Long Island, NY. Utilizing the photographic collections of former residents of Levittown, different sections of the site address various facets of the neighborhood's existence.
The first section, "Building Levittown: A Primer" is a descriptive essay (approximately 2,300 words) of the way the homes in the community were built and arranged. This introductory section features seven pictures and four floor plans of the first model homes. The other sections present 31 photographs donated by Levittown residents Charles F. Tekula and Carl Arnesen. Taken during the 1950s and 1960s, the pictures reveal family and community life. The final section, "Levittown's Transformations," is a reexamination of Levittown in the early 1990s and its evolution over the past 50 years from a homogeneous subdivision into a complex, heterogeneous neighborhood.