At a Glance
Description
Discover how FDR's New Deal impacted life in small town America.
Producer
New Deal Network
A New Deal for Carbon Hill, Alabama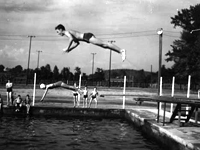 In 1938, William Pryor set out in search of a small town success story that could illustrate the success of President Franklin Roosevelt's New Deal relief program. Pryor, Chief of the Photographic Section of the Works Progress Administration's Division of Information Service, initiated a project to document the coal mining community of Carbon Hill, AL. This site includes an 1,100 word introduction, a slide show of 43 "story telling photographs" and six documents related to Pryor's visit to Carbon Hill.
Many of the photographs are portraits of Carbon Hill citizens, including an African American preacher, a mother and child, and a gasoline station attendant, each complemented by short quotes from the individuals about the impact of the WPA program on their lives. The six documents include a 400-word press release describing the duties of the Photographic Section of the WFA, a 1,600 word brief prepared by the City of Carbon Hill describing WFA relief projects, and a 1,500 word descriptive essay by Pryor recounting the economic difficulties of the Alabama community. This site documents the impact of the Roosevelt Administration's national program on a small southern community.