At a Glance
Description
Answer your questions about the Civil War with this list of physical and digital resources.
Producer
Jim Janke, Dakota State University
American Civil War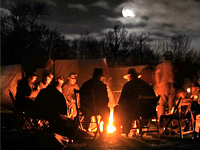 A gateway to more than 300 links about the American Civil War. Organized thematically, it offers links to a wide range of primary material—art, poetry, letters, and photographs—and also includes secondary sources such as bibliographies, museums, institutions, magazines, and other gateways. The site, indexed by subject, can help locate a wide variety of Civil War material, ranging from Confederate stamps to information about major battles, re-enactor groups, and the role of African-American troops in the war.