At a Glance
Description
View photo galleries of Hiroshima by esteemed photographer, Hiromi Tsuchida.
Website
Producer
Mayu Tsuruya, Lewis and Clark College
Hiroshima Archive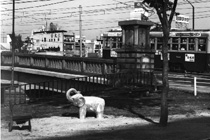 Designed originally "to join the online effort made by many people all over the world to commemorate the 50th anniversary of the atomic bombing" of Hiroshima on August 6, 1945, this site is composed of two sections. A three-part photo gallery presents 60 images from the work of the esteemed Japanese photographer Hiromi Tsuchida of surviving trees, buildings, and bridges; of survivors, whose words describing their experiences the day of the bombing are included; and of surviving objects currently in the Hiroshima Peace Memorial Museum collection with accompanying descriptions. Many of the more than 100 links to additional resources are no longer operational, but the site will be valuable to those interested in practices of historical memory in the atomic age.