At a Glance
Description
A collection of resources and educational information regarding Native American environmental issues.
Website
Producer
Alx V. Dark, Anthropologist/Software Developer
Native Americans and the Environment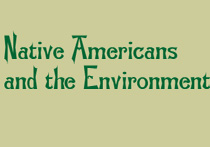 This site, created by cultural anthropologist Alx V. Dark, offers more than 2,500 links to documents, lesson plans, and websites relating to Native American land rights and environmentalism. The site's goals are to educate the public on environmental problems in Native American communities, to explore values and historical experiences that Native Americans bring to environmental issues, and to promote conservation measures that respect Native American land and resource rights. The site is divided into five sections. The "Introduction to the Issues" consists of a 2,500-word essay by anthropologist David R. Lewis on North American Indians and the environment in the 20th century. The "Bibliography and Search" offers a keyword-searchable database of more than 2,200 print and online sources covering topics like environmental justice, conservation, traditional environmental knowledge, traditional foods, natural resource utilization, land and treaty rights. "Internet Resources" includes educational resources and an annotated directory of more than 100 sites arranged by North American region and by subject, such as agriculture, horticulture, ranching, cultural and historical issues, fishing, sacred lands and graves, and water rights and dams. The "Case Studies" section includes only one study, that of the Makah Whaling Conflict in Washington State, in which the Makah tribe is fighting to return to whale hunting. Nine other case studies may be added in the future.
Though most of this site is geared toward very recent history and contemporary American Indian and environmental issues, the "Cultural and Historical Issues" section has links to other sites dealing with American Indian history, transcripts of famous speeches from 19th- and 20th-century Indian chiefs and prominent American Indians, and oral histories from 20th-century American Indian environmental activists. This site is a good resource for researching recent American Indian history and environmental issues.