At a Glance
Description
Learn about the contributions of women to colonial Georgia and the American Revolution.
Producer
Beverly L. Pack, Genealogist
Georgia's Colonial Heroines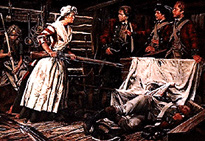 This site, created by amateur genealogist Beverly L. Pack of Kentucky, provides a 1500-word history of the contributions women made to colonial Georgia's development from its founding in 1733 to the American Revolution. The essay features links to biographies (roughly 1,500 words) of four colonial-era Georgia women: half-Indian interpreter Mary Musgrove; Hannah Harrington Clarke, wife of Revolutionary colonel Elijah Clarke; slave Mammy Kate; and "Patriot in Petticoats" Nancy Morgan Hart. Each biography has images of the woman profiled, along with a bibliography of scholarly works from which Ms. Pack drew to write the essays. Though the site is somewhat limited, it is a good start for students and teachers interested in anecdotal accounts of women's contributions during the colonial period.