At a Glance
Description
Watch scholars analyze primary sources from the Civil War at this complement to the Richmond, VA museum.
Producer
Virginia Center for Digital History (VCDH)
American Civil War Center: Educational Web Companion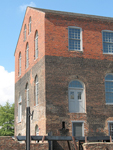 This website presents educational material complementing the American Civil War Center's physical exhibits and primary website.
Users unfamiliar with Civil War history will want to begin at the Exhibits section, which provides background information on the Civil War era, including rich descriptions of the Union and Confederate armies, the war itself, emancipation, life on the home front, and the legacies of war, accompanied by several primary source images.
The website's heart is the Media and Insights sections, which provide resources designed to help teachers plan lessons around primary source materials concerning the Civil War, including in-depth videos on teaching the Civil War through runaway slave ads, maps, letters, and photographs, as well as excerpts from several prominent Civil War-era speeches (the Gettysburg Address, the Emancipation Proclamation, Frederick Douglass, and Lee's General Order #9).
The website's Authorship section provides an easy-to-use video-making tool, allowing users to create short, narrated videos of their own.
The website also includes links to several prominent Virginia Center for Digital History projects: The Geography of Slavery in Virginia, The Valley of the Shadow, and Television News of the Civil Rights Era.