At a Glance
Description
Explore the meaning of freedom and create your own interpretations using primary sources from Monticello.
Website
Producer
Monticello and the Roy Rosenzweig Center for History and New Media
Sea of Liberty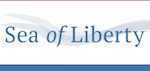 A part of Monticello's Liberty Today Initiative, Sea of Liberty invites educators and students to explore and interpret modern and historical ideas about freedom and liberty. Drawing on more than 790 primary sources, visitors to the website can create and share digital projects answering "challenge questions" such as "What does July 4th mean to you?," "Can limited government last?" and "Lewis and Clark: Explorers or conquerors?"
Educators can browse challenge questions by grade level, subject, or time allotted; add their own new challenges; and assign challenges (after registering for free—make sure to register as a teacher, and not as a member of the general public). To answer a challenge, students search or browse the library of annotated primary sources, ranging from a pocket compass like the ones used by Lewis and Clark to a recording of the 35th annual naturalization ceremony keynote by Colin Powell. Once they've found a primary source they want to include in their challenge project, they may add it to their personal collection or edit it (saving only part of an image or transcript to their collection). Using the tools in the website's "Create" section, students can then use the primary sources they've collected to make digital posters, word clouds, timelines, and videos.
For tips on getting started with Sea of Liberty, educators should check out the "Teach" section, which features videos on how to use the website in the classroom and guidelines for creating new challenges. The section also includes resources on teaching with primary sources, primary source analysis worksheets, templates for projects, grading rubrics, and overviews of the tools used in project creation.
From the "Teach" section, educators can also visit the dashboard, where they can create and manage classes. Creating a class generates a username and password for each student. After creating a class, educators can assign challenges to the class by clicking on the drop-down "Assign This Challenge to a Class" menu on each challenge page.
Both flexible and focused, Sea of Liberty can help educators teach the concepts of freedom and liberty in Thomas Jefferson's era and beyond.