At a Glance
Description
Sara Romeyn, social studies department chair at Bullis School, MD, describes using Facebook with AP U.S. History high-school juniors.
Using Facebook to Engage with Historical Figures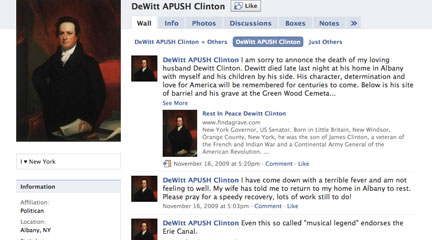 Sara Romeyn, social studies department chair at Bullis School, MD, teaches AP U.S. History to high-school juniors. In this video (2 min. 47 sec. long), she describes a project in which her students used Facebook to report on early 19th-century reform and political figures. Instead of researching and using the collected information to write reports, students created Fan pages, hosting albums of images related to their figures, detailed biographies, and continual status updates written "in character." At the conclusion of the project, students gathered for a 45-minute "virtual salon," viewing and commenting on each other's pages.
Students involved in the project demonstrated continual engagement, updating their pages and interacting with others' pages over weekends and after school. Romeyn has since repeated and improved on the project, asking students to use Google Maps to pinpoint locations important to their historical figures and Survey Monkey to poll other students' historical figures on controversial issues important to their lives.
Check out an example of one student's project, on DeWitt Clinton.
NOTE: In order to view the video, you must be on a computer that has YouTube access.