At a Glance
What is it?
Create, share, and collaborate with this free word-processing tool. Build class documents students can alter from home.
Website
Google Docs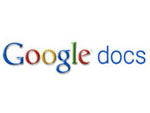 Google Docs is a free, web-based word processing, spreadsheet, and presentation program that allows users to create, share, and collaborate to develop materials. Users can create documents, tables, and other presentations within Google Docs or upload existing files or create materials within the Google Docs program.
The real-time, collaborative feature lends itself to student group projects as well as to faculty and administrative use. Users determine who has access and editing privileges through invitational emails, and files are stored online, safeguarding against hard drive or power outage loss. Usage requires a Google account.
One Teacher's Experience: Megan Fix, Middle School Teacher
As a professional educator Google Docs has enabled me to create a "school to home classroom" that provides students with the opportunity for continued education outside of the typical school day. Google Docs allow students and teachers to be in consistent contact and can even be used for communication over the summer. Students appreciate this tool because it keeps them from having to worry about where they saved an item or if they misplaced a zip drive, as it permits them to store and access documents on a web based server so that they can be reached from any location all over the world.
A student is never able to say "I left it at home!"
My students have found Google Docs to be especially helpful for group projects. The application allows students to share file access and therefore, supporting their busy schedules, creates an open forum online for them to contribute to an assignment at a time that is most convenient for them—making group projects much more efficient and considerate of a students' time.
Google Docs supports the fast growing inclusion of technology and web based programs in the classroom for our innovative generation of students. Google Docs is every teachers dream—there is no longer a need for discs or drives! A student is never able to say "I left it at home!"
One Teacher's Experience: Julie Nelson, High School Teacher
Three weeks ago, I discovered Google does a lot more than conduct a search. It affords educators with the necessary tools to both plan and incorporate not only technology, but a social media component into their curriculum. Fortunately, my district provides the necessary technological tools; and the implementation has been easier and more rewarding than any other method that I have in my repertoire of teaching tools.
Three weeks ago, I discovered Google does a lot more than conduct a search.
To implement, I researched my state's educational standards relating to information and media. After researching, I built a blog, and typed handouts using Google Docs that accompanied links to assignments. In addition, I added bonus opportunities related to video links to contemporary issues.
The weekend prior to launching, I shared with my principal my plan. Fortunately he was a supporter and that day I sent home a letter to parents explaining the curriculum's purpose and benefits, as well as my expectations of responsible online behaviors. All of the handouts I created using Google Docs. Each document I linked off of Blogger, also a free teaching tool on Google, which afforded my students access to all resources, handouts, and deadlines in one location.
My students are actively collaborating with their peers on assignments. The students are learning about the rise of industry and are completing a collaborative research project using Google Docs' presentation creator. In addition, they are completing the section assessment questions with a partner using Google Docs' document creator.
Due to the fact that Google Docs, Blogger, and Google Calendar are web-based, students are afforded the opportunity to access their assignments anywhere, anytime. They are meeting online to work on material outside of class, which is tracked by time stamping on all contributions. It is an extension of the classroom and every level of learner is benefiting. My students are actually reporting it is "fun." The digital divide is being bridged between the content and their culture. Students are meeting deadlines, corresponding via Gmail, and demonstrating more interest in learning.
Getting Started
Examples
Google offers a tour and how-to of its own program. High school teacher and blogger Richard Byrne put together a 40-page guide on using Google Docs in education, and 4th-grade teacher Meg Griffin describes how she uses Google Docs in our blog. You can also view a 10-minute video of how Google Apps work for the K-12 classroom.