At a Glance
What is it?
Weebly for educators allows teachers to create classroom websites and related student websites and projects with linked blogs.
Website
Weebly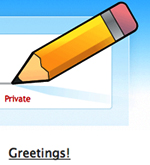 Weebly enables you create free websites and and related blogs. The special educator account allows teachers to create classroom websites that include related student websites and projects with linked blogs. It is advertisement-free, no downloads are required, and all work and editing occurs online. Essentially, Weebly helps users become familiar with the construction and possibilities of web-based projects; yet the user-friendly interface lets you and your students concentrate on content and maximizing the use of a variety of tools, sources, and resources. If you can use PowerPoint, you can use Weebly, and while some modification of html and css parameters is possible, it's not necessary. Technological know-how is not requisite.
It's drag-and-drop website creation.
Weebly offers a protected environment: you can choose to develop a site that can only be entered with a password, and you are not required to establish or reveal student email accounts. It's a drag-and-drop construction method with dozens of templates to choose from and features such as on-line photo and text editing, multimedia options. Weebly provides options for html and css customization if you choose—nice, but not necessary for an attractive, functional website.
Getting Started
Weebly has one of the most user-friendly interfaces around. Watch the Weebly demo to get an idea of the possibilities. (Or watch this two-minute overview video on YouTube. Note that a variety of tutorials on YouTube discuss personal and educational use of Weebly and its various apps.) Then, move to your first step: setting up the educator account which calls for your name, email address, school and grade affiliation, selecting a password, and you're on.
Weebly's interface let's you concentrate on content rather than technology.
You'll be invited to create a class site with a student list (up to 40 student accounts free of charge), and you'll have the option to establish privacy settings. Then it's time to get your web site up and running. Simply select the create a site option, title your new site, and let the fun begin with the Weebly editor. The editor nav bar is divided
elements: text and image formats for your pages
designs: page templates which you'll select according to colors you like, numbers of columns you need, your preferred navigation location, and more
pages: add and name pages and place them in your site nav bar
To create the site, simply click on an icon and drag it onto your template. You'll be prompted to edit, add content, or continue to the appropriate next step. Once you've dragged-and-dropped, you'll be encouraged to customize. The photo gallery element, for example, allows you to add captions, resize, adjust placement on the page, and link the image to other files or web addresses. As you add content, you'll also want to look at multimedia options which include uploading and formatting photos, embedding YouTube videos and Flickr images, and google maps. Want to add a blog to your site, perhaps as a communication medium between you and parents, perhaps as an in-class communication venue, or perhaps as a project-specific vehicle for collaboration and student assessment. To create a blog, simply select the pages option, then the new blog nav bar, give your publication a title in the page name field, and your blog is ready to go. It's complete with categories, a blog achive, and an RSS feed. When you're done, click the publish bar, and you've authored a website which you can continually edit, upgrade, and augment. What's tricky about Weebly? If you stick with the WYSIWYG program, you're unlikely to encounter any problems. One helpful hint: you can log in on the weebly home page; your students need to access their sites and files at http://sudents.weebly.com
Weebly is the website platform of choice for National History Day projects.
Weebly pro accounts are available for a reasonable annual fee. Or better still, refer five teachers to Weebly, and you'll upgrade to a Pro account free of charge. Pro accounts add some additional features such as larger file size, audio and video players, the ability to password-protect individual pages, and footer customization options.
Examples
National History Day (NHD) competitions for 2010 provide outstanding examples of Weebly projects. (Note the direct link to Weebly in the lower left hand navigation bar of the NHD home page.) http://www.nhd.org/CategoryWebsite.htm (NHD also talks about the steps for creating an historical website and sells a guide, How to Create a Historical Website written through the Center for History and New Media at George Mason University.)
Educator Jackie Gerstein, uses Weebly for a variety of communicatin and social networking purposes. Her Sample Class Page takes a blogger approach and demonstrates embedded videos and graphics, commentary, and linking, among other presentation methods.
Ms. Shield's 21st Century 3rd Grade and Andy Birch's Fifth Grade Classroom offer further examples of Weebly sites as classroom management and social networking tools. Andy Birch's site also links to student blogs.