At a Glance
What is it?
Dropbox is an online storage tool that can back up important files and allow users to share documents anywhere.
Website
Dropbox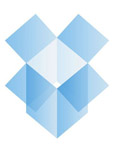 Dropbox is a free service that sets up an online storage site, as well as a folder on your computer, to protect your files (photos, docs, and videos) and share them easily. By creating an account, users can install their Dropbox folder on any computer, making it easy to synchronize files across several computers without having to worry about carrying a flash drive at all times. Like Google Docs, the benefit of using Dropbox is its online storage space. If a computer crashes at school or at home, users can still access files by logging into their Dropbox account on any computer. Students and teachers alike will find the simplicity of Dropbox useful for research, collecting files for projects, and developing a unit or course group of files.
Getting Started
Registering with Dropbox is free; however, paid subscriptions offer users increased storage space. If 2 or 2.5 GB is enough online storage for your educational needs, then the Dropbox free plan works fine.
To get started with Dropbox, users will be asked to register and start an account. After creating a password, users will be directed to download Dropbox. The site's step-by-step tutorial makes it easy to install this tool. Proceeding through the tutorial, as well as sending friends invitations to join Dropbox, also allows users to gain an additional 250 MB of online storage space (for a possible total of 2.5 GB). After the installation process is complete, users will be able to access their Dropbox folder on their computer in two ways: as a folder in the "My Computer" panel or by right-clicking their Dropbox icon in the toolbar (or navigation pane). A third option, one that is useful in accessing your files on someone else's computer, is to visit the Dropbox website and log on.
Examples
Wait a minute! Where did my files go?
One of the most confusing aspects new users face when using Dropbox is understanding the nature of the Dropbox folder and how it works. Put simply, your new Dropbox folder is just another folder on your computer (like "My Documents"), but it is the only folder on your computer that automatically syncs to your online Dropbox account. In other words, this same folder is both on your computer and in the Dropbox storage space. Some users may experience some initial confusion when dragging files into their Dropbox folder. Let's say a teacher wants to move a select amount of lesson plan documents and spreadsheets from a "World War II Unit" folder to the Dropbox folder. She'll find that all her files will no longer be in her "World War II Unit" folder; instead, they are in the Dropbox folder. This makes sense because she shifted these files and did not create copies. In order to have those files in both places, she would have to copy and paste the files instead of moving them. Regardless of preference, it would be wise to create folders within a Dropbox folder and organize them as one would normally.
For the U.S. History classroom, the ability to back up files online and share folders fosters collaborative learning.
The simple advantage of having a Dropbox folder to sync to the Web is that if something were to happen to a Dropbox user's computer, all his files in the Dropbox folder can still be accessed online. Additional benefits include a "share" feature—which allows users to invite (via email) another Dropbox user to share a particular folder. Educators teaching the same course can create, for example, an "African American History" folder and invite all teachers who teach this course (at school, district-wide, across the country) to access it. Likewise, students can create and share a folder for a particular project. This allows each student, at home or at school, to add files to the shared Dropbox folder at their convenience. Lastly, teachers can create and share a class folder with their students so that they can access particular files. One word of caution: sharing a folder allows each member to edit the folder. So teachers should think about how they would share folders with students. For the U.S. History classroom, the ability to back up files online and share folders fosters collaborative learning. But another feature of Dropbox can also be a lifesaver of sorts. By logging on to your account via the Dropbox website, you can access previous versions of the files that are stored online. You can simply click on "Files", choose the selected file, and in the drop-down menu select "Previous Versions." This feature can come in handy if an erroneous save deletes important work. As a collaborative tool, or a useful way to save personal files, Dropbox can help students and teachers research, collect, organize, and share online.
For more information
If you're looking for an alternative to Dropbox, THE Journal, which focuses on technology in education, provides a succinct article on cloud storage and what educators can expect from the multiple providers.