At a Glance
Description
Records of more than 25 million passengers and crew who passed through Ellis Island 1892-1924.
Website
Producer
The Statue of Liberty-Ellis Island Foundation Inc.
American Family Immigration History Center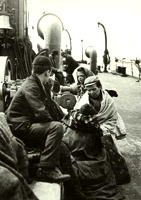 Records on the more than 25 million passengers and ship crew members who passed through Ellis Island between 1892 and 1924 are available through this website. Most passengers came from Europe and Russia, although there are some records from Asia, the Caribbean, and Latin America.
The website requires a free, simple registration to view detailed records that include name, residence, date of arrival, age on arrival, ethnicity, place of residence, marital status, ship of travel, place of departure, and a copy of the original ship manifest (a transcription is also available). The website includes extensive contextual information about Ellis Island, immigration, and genealogical research. "Family Histories" illuminates the genealogical research experiences of six Americans of diverse ethnic backgrounds.
The "Peopling of America" exhibit covers six periods from pre-1790 to 2000, with graphs, photographs, and immigration statistics geared to place of origin. Additional information is available for an annual fee.