At a Glance
Description
Learn about family life and social history in the northern Midwest.
Producer
Illinois State Museum
At Home in the Heartland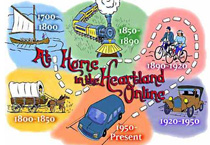 Visitors can explore family life in Illinois from 1700 to the present in this site based on a 1992 museum exhibit. The site is divided into six time periods, each featuring biographical sketches providing "glimpses into the lifestyles and domestic situations of real people" at critical moments in Illinois and American history.
In addition, each period contains audio components; timelines; maps; examples of material culture; exercises comparing the lifestyles and experiences of various racial, ethnic, and economic groups; methodological explanations; and teaching aides such as grade-specific lesson plans, discussion ideas, classroom activities, and links to related sites.
Activities can be accessed at three levels of difficulty: Level I (grades 3-5), Level II (grades 6-9), and Level III (grades 10-12). A valuable resource for teachers interested in exposing students social history.