At a Glance
Description
Companion to a PBS television program, this site provides insight into everyday colonial life.
Colonial House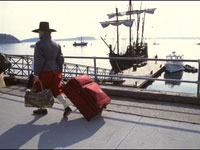 A companion to the series Frontier House, this site documents the five months that 26 American volunteers spent in a Maine wilderness recreating life in 1628 New England. The site provides short biographies of all 26 participants, a behind-the-scenes look at the making of the show, and a series of short activities designed to highlight colonial American history. Teachers will find most useful the four lesson plans (for grades five to eight) that discuss the settling of America.
In addition, an online scavenger hunt allows students to learn about day-to-day colonial life (teachers may tape broadcasts and show them in class for 12 months after airing). The site also includes 14 video clips, 12 audio clips, and more than 90 photographs of the cast and village.
Visitors should not miss the Myth-Conceptions quiz, or the language tutorial, where they can test their knowledge of colonial America and compare 17th-century English to 20th-century English.
Visitors will not find document collections or historical maps; the site's primary value is in the anecdotes that reveal little bits of information about 17th-century life in New England.