At a Glance
Description
Learn about Jefferson's forgotten descendants, children of his slave mistress.
Producer
PBS and WGBH/Frontline
Jefferson's Blood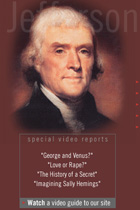 An adjunct site to a PBS "Frontline" program exploring the claim that Thomas Jefferson fathered at least one and maybe all of the children of his slave, Sally Hemmings. This view is supported by DNA testing and believed valid by a consensus of historians and experts. The site presents ten essays ranging from 2,000 to 5,000 words in length by prominent historians and other scholars—including Joseph Ellis, Annette Gordon-Reed, Philip D. Morgan, Jack Rakove, and Gordon Woods—on the controversy, its historical background and significance, interracial sex in the antebellum Chesapeake region, Jefferson's legacy, and America's mixed-race heritage. The site also provides accounts by four Monticello slaves and the chief overseer; four video segments, from seven to nine minutes each; transcripts of interviews with Ellis, Gordon-Reed, Dr. Eugene Foster, who designed and carried out the testing, and Lucia Cinder Stanton, from the Thomas Jefferson Memorial Foundation; and links to a clearinghouse for information that argues against the claim.