At a Glance
Description
Looking for an extensive collection of sources on Virginia history? Here's a valuable resource for any teacher or student of U.S. history.
Website
Producer
Virginia Foundation for the Humanities and the National Endowment for the Humanities
Encyclopedia Virginia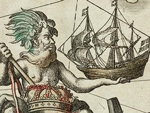 Encyclopedia Virginia, a publication of the Virginia Foundation for the Humanities (with support from the National Endowment for the Humanities), explores the people, history, economy, government, and culture of the Commonwealth of Virginia. Users can browse nearly 6,500 entries in over 35 categories—arranged alphabetically—as well as sign up for a free My Virginia account, which allows users to bookmark specific entries, images, and videos. Each entry contains links to related topics on the site, (when available) images, timelines, and further reading. Users will also find a list of external links on the right side of the web page.
Perhaps the most interesting tool is Explore Virginia, a search engine which lets users choose categories, event types, and place types. Each category and type listing states the number of associated items. To the right of the page, "Explore Virginia" displays a Google Map of the state with markers for each entry item by search criteria. To minimize the number of entry markers displayed on the map, users can refine the search criteria using the sliding markers on the timeline tool or by selecting categories and types.
Another helpful feature for educators is the site's blog. Updated on a regular basis, blog entries contextualize items on the site and provide images with citations, as well as helpful links, that teachers will find useful in incorporating Virginia history into the U.S. curriculum.
Overall, Encyclopedia Virginia is a helpful site for any student or teacher looking to augment the teaching of U.S. history through the lives of notable Virginians.