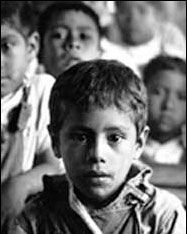 Thu 3 2009
The United States has the 3rd largest Hispanic population in the world, according to 2007 Census figures. Only Mexico and Columbia are numerically larger, and among the 44.3 million people of Hispanic origin in the United States, more than 64 percent are of Mexican background. (Visit Annenberg Media's Race, Hispanic Origin, and Ancestry, demonstrating who is Hispanic and how the census category interacts with race.)
We celebrate the presence and contributions of Hispanic Americans during Hispanic Heritage Month, September 15-October 15. The September date marks the anniversary of independence for five Latin American countries—in 1821, Costa Rica, El Salvador, Guatemala, Honduras, and Nicaragua. Mexico celebrates its independence on September 16—the beginning of a decade-long war against Spain in 1810—and Chile on September 18.
Hispanic Heritage from facts to cultural concepts
Knowing the facts of Hispanic firsts and milestones in the United States presented in these activities from Education World is a good beginning for teaching about the fastest growing cultural group in the country. (Note, however, that the statistics on this site pre-date current statistics cited above from the Census Bureau.)
But Edsitements's Read, Write, Think also encourages students and teachers to look at the deeper influences of culture: art, architecture, education, literature, and more. Edsitement resources also link to Scholastic's Celebrate Hispanic Heritage (primarily for younger students).
Jim Crow laws didn't officially separate Mexican Americans, but the outcome was the same.
The valuable resources of the National Park Service National Register of Historic Places highlight historic properties that deal directly with the cultural and political experiences of Hispanic Americans. Bullion Plaza School, for example, includes lesson plans on the segregation of Mexican-American students—a common practice never mandated by law, but by cultural constructions of race and nation.
Primary sources and artifacts come from the Library of Congress and the Smithsonian.
Library of Congress Themed Resources for Teachers includes a focus on Hispanic Americans and helps educators explore the culture and contributions and interactions of Hispanic peoples in North America through primary source text and multimedia materials. Lesson Plans highlight oral history as a tool for history instruction.
The Smithsonian's Latino Center turns the spotlight on Latino culture in the United States. Beware of dead links; however, a visit to Hispanic Heritage Teaching Resources reveals a variety of perspectives on Latino life and culture including, among the dozen or so topics, Mexican America, a sampling of objects from the collections of the National Museum of American History, and a digital exhibit, The Power of Photography, which looks at the photographic works of Manuel Carrillo exploring issues of identity and representation.