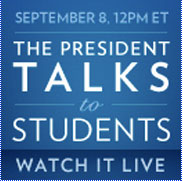 Thu 3 2009
On September 8, 2009 at noon Eastern Time (EDT), President Barack Obama will deliver a national address to the students of America. During this special address, the president will speak directly to the nation's children and youth about persisting and succeeding in school.
The White House website and C-SPAN will broadcast the speech live. After President Obama's speech concludes, C-SPAN will open its phone lines for students and teachers to comment about what they heard. If you or your students would like to call in and comment, you can use these numbers: (202) 737-0001 for students; (202) 737-0002 for teachers.
The U.S. Department of Education encourages students of all ages, teachers, and administrators to participate in this historic moment. Secretary of Education Arne Duncan sent a message directly to schools about the event and the content of the President's address. He says, "The president will challenge students to work hard, set educational goals, and take responsibility for their learning. He will also call for shared responsibility and commitment on the part of students, parents, and educators to ensure that every child in school receives the best education possible."
What do you think? Create your own video and let people know!
The Department of Education also encourages students to respond to the President's Back to School challenge by creating videos, up to two minutes in length, describing the steps they will take to improve their education and the role education will play in fulfilling their dreams. Visit I Am What I Learn for further information on September 8.
Students age 13 and older should upload their videos to YouTube by October 8. Submissions can be in the form of video blogs, public service announcements (PSAs), music videos, or documentaries. Have fun and be creative with this project! The public will then vote on their favorites to determine the top 20 finalists. These 20 videos will be reviewed by a panel of judges including U.S. Secretary of Education Arne Duncan. Three winners will receive a $1,000 cash prize!
Frequently Asked Questions (FAQs)
1. When will the president deliver his address?
President Obama will speak to the students of America at 12:00 p.m., ET on Tuesday, Sept. 8, 2009. (Note that this is a change from the time originally scheduled.)
2. How can I watch the president's address to students?
Viewers may watch the address via the Internet by visiting the White House website, at http://www.whitehouse.gov/live/, where the address will be streamed live.
C-SPAN, the cable public affairs network, will cover the president's speech live on its C-SPAN television channel and provide live streaming video online at C-SPAN.org. The speech also will be aired live on C-SPAN Radio (90.1 FM in Washington, DC, and channel 132 on XM Satellite Radio).
White House television will make the address available via satellite for access by local broadcast outlets and school districts. The satellite feed will be live for testing and calibration beginning at 11am ET on September 8th using the following coordinates:
Galaxy 28/Transponder 17, Slot C (9 MHz); Uplink Frequency 14344.5 Horizontal; Downlink Frequency 12044.5 Vertical.
For updates related to the president's speech, please visit the White House website or the Department of Education.
3. What is the duration of the president's address?
The president is scheduled to speak for 15–20 minutes. The U.S. Department of Education provides resources for educators who may choose to use the president's address as a teachable moment. Two menus of classroom activities, one for students in grades PreK–6, and another for students in grades 7–12, may be found as downloadable PDFs on the homepage of the Department of Education.
4. Does the White House website have the capacity to host all of the potential live viewers for this event?
The White House website is equipped with the appropriate amount of bandwidth to accommodate a large viewership.
5. Will the address be available in some form after the original broadcast date and time?
Downloadable video of the speech will be made available at White House Media Resources as well as through the Department of Education. C-SPAN will provide archived and "on-demand" viewing options .
6. Will the address include captioning for deaf and hard-of-hearing viewers?
The live address broadcast on C-SPAN will include captioning.