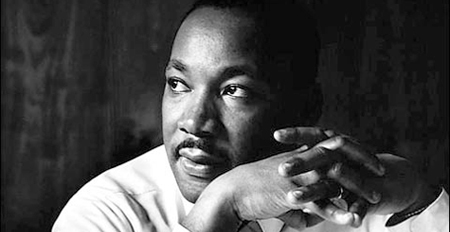 Tue 12 2010
Martin Luther King, Jr. is the only American with a unique, individual holiday—not even American presidents are so remembered anymore. It's observed on the third Monday in January—January 18 this year—and the path to creating this holiday was uphill. Corretta Scott King (1927-2006) considered the day as one of interracial and intercultural cooperation and sharing. "Whether you are African-American, Hispanic or Native American, whether you are Caucasian or Asian-American, you are part of the great dream Martin Luther King, Jr. had for America," she wrote.
The Martin Luther King holiday is a day of service, not relaxation.
Since 1994, it's also been a Day of Service, "a day ON, not a day off," when people are encouraged to come together with volunteer projects to move us closer to achieving the dream Dr. King had for the nation. Dr. King once said that what we all have to decide is whether we "will walk in the light of creative altruism or the darkness of destructive selfishness. Life's most persistent and nagging question is 'what are you doing for others?'"
Communities throughout the country offer opportunities for volunteers—use the searchbox at Serve.gov to find programs near you—or consider planning ahead with your students to develop a school-based day of service for 2011.
It's a good time to ask whether we've progressed toward achieving Martin Luther King's dream.
Few commemorations of the Civil Rights leader will occur without citing King's moving and powerful I Have a Dream speech at the Lincoln Memorial in Washington, DC, August 28, 1963. Few will fail to ask whether we have moved closer to achieving his dream that America is living out the "true meaning of its creed: 'We hold these truths to be self-evident, that all men are created equal.'"
It was a question Martin Luther King later asked in the sermon, "Unfulfilled Dreams," delivered at Ebeneezer Baptist Church on March 3, 1968 less than a month before his assassination. "I guess one of the great agonies of life is that we are constantly trying to finish that which is unfinishable," he stated and he talked about Mahatma Gandhi, Woodrow Wilson, and various Biblical figures who died before seeing the fruition of their lifework.
Provocative questions about the meaning of Martin Luther King's life yield surprising answers.
The creators of Teach Martin Luther King, Jr. of the Western Michigan University MLK Celebration Committee believe that students K-12 are able to tackle this question and offer teaching ideas and resources grouped for elementary, middle and high school students. Materials encourage educators to move beyond textbook biographies to "...the years following 1963...years of tremendous growth and deepened insight. King was uncompromising in his stand against racism in the United States."
The site provokes discussion through introducing (and dispelling) four myths about Dr. King, including, "Martin Luther King, Jr. should be thought of as a great African American leader." "Compared to Malcolm X, Martin Luther King, Jr. was an "Uncle Tom;" rather than using "any means necessary" he believed in a passive non-violence." "Now that we are in the twenty-first century we have achieved the goals King fought for?" The phrasing of the myths is intended to jar; the commentary does not, but emphasizes the scope of Dr. King's work, placing his life in a global context of meaning and achievement.
Audiovisual resources posted on the site (and linked through YouTube) include "I Have a Dream," other speeches, and videos of historical commentary.
For materials that help relate Dr. King's work to the present day, explore a 2008 speech by then-presidential candidate Barack Obama at Ebeneezer Baptist Church. The half-hour video recaps the civil rights movement, Dr. King's life and impact, and present-day concerns.
And for comprehensive access to primary sources, white papers, and teaching materials, Martin Luther King, Jr. Research and Education Institute at Stanford University hosts the King Papers Project. As you might expect, a plethora of materials on King, his life, his speeches, and his work are accessible under this umbrella. Classroom Resources include document-based lesson plans, biographical essays, and an online encyclopedia of the civil rights movement.