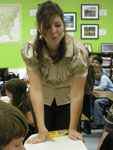 Thu 16 2010
Know a fantastic K–6 teacher who goes above and beyond to help his or her students engage with history? Someone who not only meets your state's standards, but expands on them? Someone who shows students how history can move out of the classroom into their lives?
Nominate them for the Gilder Lehrman Institute of American History's seventh Teacher of the Year Award! Open to K–6 teachers from all U.S. states, districts, and territories, as well as Department of Defense and U.S. State Department schools, the program presents $10,000 to the national winner, while each state winner receives $1,000 and a set of books and other resource materials for their school library.
The program seeks to honor teachers who make primary sources and thoughtful assessment integral to their curriculum. Teachers must have taught full time for at least three years and not plan to retire within the next year. Last year, Gilder Lehrman honored Royal Valley Middle School teacher Nathan McAlister (awards alternate yearly between elementary and secondary teachers). Following research into the history of the Kansas Underground Railroad, McAlister's students drafted a bill (later signed into law) creating a local Underground Railroad trail.
Students, parents, colleagues, supervisors, and other educational professionals can all nominate teachers. Once a nomination has been accepted, the nominee will be contacted to submit supporting materials. The deadline for nominations is Feb. 1, 2011. Gilder Lehrman will announce state winners in May 2011 and the national winner in the fall.
For more information, visit Gilder Lehrman's website.