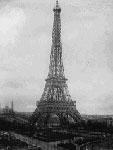 Tue 26 2011
Costumes Not Required
In February 2011 two colleagues (Christopher Dean Lee and Alex de Erizans) and I completed a manuscript and presented excerpts from the paper at a social studies educator's conference in Orlando, FL. Both the paper and the presentation were the results of successful experiences we had simulating historical events in our classrooms. We found these efforts fostered students' historical empathy and issues-analysis and decision-making skills, all necessary to the experience of "doing" history. While I admire those teachers who take simulations to the level of character reenactment—dressing the part of Napoleon to depict the Battle of Waterloo, for example—what we did here was a bit tamer, and more importantly, student-centered. For our exercise, we chose the 1919 Paris Peace Conference as the simulated historical event on which to focus. Our purpose was to provide opportunities for students to engage in deliberative exchanges based on the 20th-century event that set in motion so many truly global changes.
For this lesson, we attempted to bring some of the designs of Model UN into a history classroom.
An experience beyond traditional classroom discussion, deliberation requires generation of consensus through an investigative process. Classroom simulations employing deliberation are not new in social studies pedagogy. For over two decades organizations such as Model UN have provided opportunities for students to experience deliberation focused on contemporary global issues and challenges. These experiences, however, have largely been extracurricular and not part of the day-to-day learning environment. For this lesson, we attempted to bring some of the designs of Model UN into a history classroom.
Creating the Lesson
As preparation for the lesson, we designed various "position papers" which spelled out the proclivities and concerns of the representatives from each of the delegations at the conference including the Big Four: France, Britain, Italy, and the United States. These documents were developed using various primary and secondary sources including Margaret MacMillan's book, Paris 1919: Six Months That Changed the World. We were fortunate that one of our colleagues, Alex, is a German historian who employed his vast knowledge and various sources to craft these documents. Websites such as Firstworldwar.com and the World War I Document Archive's post-1918 documents section provide examples of the sources we used.
We chose delegations based on region in an effort to provide students the realistic situation of grappling with regional challenges as well as mutual needs.
To begin, the teacher establishes delegate groups and distributes the position papers. Flexibility allows that the teacher may dictate some group dynamics. For example, the teacher may decide to assign a specific delegate group to each student or allow students to advocate for all groups within their delegation. Students might, therefore, receive all of the position papers from his or her delegation or receive only the one position paper of his or her group or nation. We chose delegations based on region in an effort to provide students the realistic situation of grappling with regional challenges as well as mutual needs. For example, Poles, Czechs, and Slovaks represented Northern Europe while the Turks, Arabs, and Jews represented the Middle East. Overall, four regions and the Big Four became our five delegations. For homework, students read their position papers and develop targeted questions designed to better understand their delegation's stance.
In the subsequent class meeting the groups, representing the various delegations, are formed and tasked with reviewing the questions written for homework and developing a consensus statement (based on the position papers and various electronic and other sources available from the teacher) to be presented to the Big Four. Members of the Big Four delegation then deliberate in an effort to consider the demands of the delegates as well as their own constituents at home.
Authentic assessments are done via follow-up documents, which address the decisions of the Big Four in terms of delegations' demands and actual outcomes of the conference. These assessments take the form of letters to the editors of home nation newspapers and detailed letters to the Big Four praising or raising concerns for the decisions made in Paris. The Big Four delegates write their own letters to home newspapers outlining the decisions they made and the reasons why these decisions are in the best interest of their constituents.
Upon completion, students will have a realistic sense of deliberating in the complex environment of 1919. Moreover, the revelations of the actual decisions made by the Big Four will likely provide memorable fodder for discussion as you move forward in 20th century history.
Expanding this Teaching Method
Our efforts in developing this simulation lesson have us excited about the possibility to find other historical events that may work with these activities. Thus far we have considered the Congress of Vienna, the Peace at Augsburg, the Continental Congress meetings, and even the Camp David Accords. As with any teaching strategy, we realize that many history teachers have successfully engaged students in activities akin to this. In an effort to amalgamate ideas, strategies, and resources, we have created a website designed to house historical simulation activities. If you are interested in employing historical simulation activities in your classroom, or if you have developed a simulation activity based on historical events, feel free to visit our nascent website, where you can find some details about the Paris simulation as well as contact information to submit your own historical simulation lesson activity.
For more information
Ready to gather primary sources to create your own position papers? We've reviewed more than 200 websites on World War I, many of them archives of primary sources.
Brown University has a few suggestions for using roleplaying in the classroom. While the Paris Peace Conference is more appropriate for high school students, you can roleplay with younger students, as well—check out Teaching in Action entry "Historical Context and Roleplaying" for ideas.