Data on Students' Knowledge of American History
Question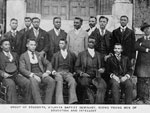 I am trying to find current, national data on students' level of understanding and knowledge of American history. Any suggestions or studies that would help me find such data?
Answer
Good question! Unfortunately, there are not many sources for this kind of data. The best I know is the National Assessment of Educational Progress in American History. NAEP, referred to as the Nation's Report Card, is administered by an arm of the U.S. Department of Education and periodically assesses what students know and can do in various subject areas.
In U.S. history, fourth, eighth, and 11th graders across the nation take a test that includes multiple-choice and constructed-response questions. Here is the latest report on students' U.S. history knowledge and skills. This downloadable report presents the extensive data gathered by NAEP in easy-to-read formats. To learn more about the assessment and resulting data, see the varied links on the U.S. History home page. Scroll down and try the NAEP Data Explorer tool if you wish to explore and tailor the data available.