Elementary Military History Resources
Question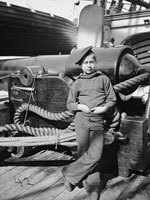 I'm looking for military history resources for elementary school children. In particular:
Where can I find books for elementary school students on U.S. military history and involvement in wars at home and abroad? Do you have any specific recommendations for books on Iwo Jima?
Is there a good timeline available of US military history?
How can I find local museums for students to visit who are especially interested in war and military history?
Answer
Finding resources for educating elementary school students about military history can be a challenge. But they're out there.
Books
One good place to start is with Eyewitness Books. Covering conflicts like the American Revolution and World War II, these books are packed with pictures; and targeted at students ages 9-12.
Another approach to finding books is through grade-appropriate reading lists. The School of Library and Information Science at the University of Kentucky, for instance, has a great reading list for children PreK-Grade 6. Scroll down to "historical fiction" in the list and look for what might be relevant to your interests there.
Another approach to finding books is through grade-appropriate reading lists.
Libraries are another obvious choice for booklists. One great source is the Springfield, MA American Historical Fiction Reading List. Presenting books appropriate for students in grades 4, 5, and 6, the list includes books on the Revolutionary War, the Civil War, World Wars I and II, and Vietnam. Although targeted at older elementary students, the Young Adult Library Services Association's History booklist has some good resources and includes a number of books dealing with military history. Library Booklists—a clearinghouse of public libraries across the nation—is another good source for book lists compiled by librarians. Their Young Adult Historical Fiction page has a number of different lists on it, addressing different historical topics and themes.
Another approach you can take is to check out social studies reading lists with works for students of all ages, which will include some elementary-level works dealing with military history. One great list is the recommended books archive for social studies on the PBS Teachers website. Bear in mind, though, that these books are for all readers, not just elementary students.
Finally, there are other websites available online that compile booklists by topic and by grade-level. One relatively comprehensive example is the "Children's Books about War" page on the Family Education website. The forty books on the list range by grade level, but all focus in some way on military conflict and war.
Timelines
In terms of a timeline, one of the more comprehensive military timelines on the web is the Military History Timeline available on warscholar.com. Though perhaps too complex for younger elementary students, it's a great resource for students headed into middle school.
Local Resources
As for field trips for students interested in war and military history, there is a wide range of museums and historic sites. A wide range of museums exists, from the American Civil War Museum in Gettysburg, PA, to the United States Holocaust Memorial Museum in Washington, DC, to the Korean War National Museum in Springfield, IL, dealing with specific wars, and those museums frequently have educational outreach programs.
Other, state-specific museums, like the Virginia War Museum, or the Texas Civil War Museum, look more closely at military history within particular states. Another great resource is the National Park Service, which maintains both Revolutionary War Sites and Civil War Sites—sites that students can visit in a number of different states and that frequently offer educational outreach.
Of course, one of the easiest ways to find potential field trip locations is by using the Museums and Historic Sites search engine on the National History Education Clearinghouse website.