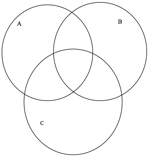 Graphic organizers can be effective scaffolds for all history students, but they can be especially helpful for students with limited English proficiency. They allow these students to engage with difficult historical concepts without depending completely upon academic language to convey information. Graphic organizers are visual tools that allow students to clarify key concepts and understand the relationship between them. Examples of graphic organizers that are useful in the history classroom include flow charts, Venn diagrams, story maps, and timelines. These scaffolds can help you teach the important historical concepts of chronology, change over time, cause and effect, multiple-causality, and contrasting cases. Remember, however, that you may also need to teach your students how to use these tools—a Venn diagram is not necessarily intuitive! Below find resources for locating and creating graphic organizers to use in your classroom. Creating Graphic Organizers Using Microsoft Office The resources below allow teachers to create custom graphic organizers using software that is readily available to many teachers.
Timelines: Create with Microsoft Word This link takes users to a page that provides detailed instructions for creating a scaled timeline in Microsoft Word. Timelines provide useful visual aids for helping students to understand chronology, context, and change over time. Word allows users to customize timelines by inserting both images and text.
Timelines: Create with Microsoft Excel This how-to page provides instructions for creating a timeline using Microsoft Excel. Excel allows teachers and students to organize and present chronological information in an easy to understand format. Excel is especially helpful in creating timelines for eras. The cells can be expanded to fit the chronological span of an era. Excel also allows the author to easily rotate text within the cell, which allows an author to easily format a timeline with a large amount of text.
Venn Diagrams: Create with Microsoft Word or PowerPoint Venn diagrams can be useful for helping students understand and compare important historical concepts, eras, or events. This link provides succinct instructions for creating a Venn diagram in Word or PowerPoint.
Customize Graphic Organizers using Microsoft Word Graphic organizers such as flowcharts, semantic webs, and story maps can be created using Microsoft Word (2003 or later).


Instructions: 1. Open a new Word document. 2. Click on the "Insert" tab and scroll down to "Picture." 3. Under picture, select the "Autoshapes" option. 4. The Autoshapes option will allow you to arrange prefab shapes and customize graphic organizers to meet your students' needs.

Software packages (such as Inspiration, Microsoft Visio, iGraphx Flow Charter, and SmartDraw) can be used to create neat and professional graphic organizers. Unfortunately, many teachers do not have access to these software packages.
Graphic Organizers on the Web
Examples of Graphic Organizers on the Web The Pomperaug Regional School District 15 in Connecticut provides examples of graphic organizers in both English and Spanish. The graphic organizers on this page can be downloaded using Adobe or Microsoft Word but cannot be reproduced without permission from Region 15. Though not reproducible, the graphic organizers housed at this site serve as a useful resource for generating your own graphic organizers for the history classroom. Some particularly helpful examples that model ways to help students understand important historical concepts are those accessible through the Cause and Effect—GO.4 link. Here you will find examples of graphic organizers that can be effectively used to convey the historical concepts of cause and effect, multiple causality, and cyclical cause and effect.
Another useful link is Compare and/or Contrast—GO.6 which provides examples of graphic organizers (GO.6.2, GO.6.3) that can be used to contrast historical events/eras.
A third useful link is a set of graphic organizers that can be used to help students construct an expository historical essay (Expository Writing—GO.9). These essay guides help students understand the structure of an expository essay and how to organize information effectively.