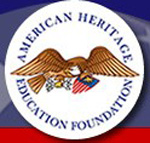 America's Heritage: An Adventure in Liberty is a curriculum designed to teach students about the roots of our heritage and the responsibilities of American citizenship. The elementary-level plans in this curriculum are presented in both Spanish and English for English language learners.
Spanish translations of all handouts and activities, including source documents such as the Declaration of Independence and lyrics to the Star Spangled Banner
are available in downloadable pdfs.
The lessons are available free on Compact Disc (CD) or they may be downloaded from the website. Paper copies of the lessons are available in binders for $19.50.