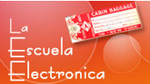 The Electronic Schoolhouse / La Escuela Electrónica is a bilingual educational resource of historical resources developed by the New York State Archives, a program of the New York Department of Education that cares for and provides access to more than 200 million documents.
With background information available in both English and Spanish, materials examine the Latino experience in New York through documents and images from 1861 to the present.
Also available are focus questions, activities, lists of additional resources, and instructional videos that explain how teachers can use materials.