At a Glance
Topics
American Tourists in the Holy Land
Features
Focus on historical thinking, Inclusion of multiple perspectives, Multiple Sources, Scaffolding of close analysis of text, Useful for differentiating instruction
Grade(s)
7, 8, 9, 10, 11, 12
Download
American Tourists and the Holy Land, 1865-1900
Students analyze maps, travel posters, and the writings of Mark Twain to explore expectations versus reality. They then plan their own itinerary for American tourists.  
Review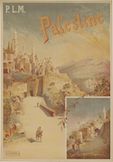 In this teaching module from the Shapell Manuscript Foundation in collaboration with the Roy Rosenzweig Center for History and New Mediastudents learn how to examine engaging primary sources including travel posters, train tickets, maps, and a letter written by Mark Twain to better understand the attitudes and experiences of Americans who travelled to British Palestine in the late 1800s.
Students work in small groups to analyze sources and think through what kinds of expectations Americans might have had about the Holy Land before they travelled there. Students are also encouraged to explore what technological changes allowed tourists the opportunity to travel across the ocean. Primary sources such as travel posters present an idealized version of the places that Americans were familiar with from the Bible. 
After analyzing these primary sources students work in groups to create their own travel itineraries and promotional posters or pamphlets to advertise tours in the Holy Land. These can be physical materials or students may use digital tools to create their promotional materials. The modules also contain guidance on differentiation for diverse learners and connections to standards.  
Notes
Teachinghistory.org Lesson Plan Rubric
Field
Criteria
Comments
Historical Content
Is historically accurate?

Yes

Includes historical background?

Yes

Requires students to read and write?

Yes
Students show their understanding through primary source analysis and creating visual media. 

Analytic Thinking
Requires students to analyze or construct interpretations using evidence?
Requires close reading and attention to source information?

Yes
Requires close reading and attention to source information.

Scaffolding
Is appropriate for stated audience?

Yes

Includes materials and strategies for scaffolding and supporting student thinking?

Yes

Lesson Structure
Includes assessment criteria and strategies that focus on historical understanding?

Yes

Defines clear learning goals and progresses logically?

Yes

Includes clear directions and is realistic in normal classroom settings?

Yes