At a Glance
Description
Turn your students into 'master chefs' by using learning menus that allow differentiated instruction.
Learning Menus: Textbooks a la Carte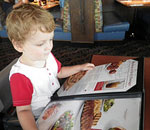 Why do it?
Elementary and middle school classrooms often require students to read history textbooks. Historical accounts in textbooks, however, can often be dry or difficult to grasp. Learning Menus offer students a variety of active methods to access the textbook, remember pertinent information, and learn to regulate their own learning. This strategy can be adapted for multiple grade levels.
What is it?
Learning Menus are forms of differentiated learning that give students a choice in how they learn. Each choice on the Menu encourages students to engage in an activity that requires actively reading, re-reading, and then summarizing important textbook content. After a student has completed an activity on the Menu, the teacher immediately assesses his or her work before she or he can move on. Learning Menus come in various forms and can include tic-tac-toe boards, restaurant-like menus, matrices, and multiple-choice grids. For example, students can be given a Learning Menu structured like that of a dinner menu with the headings "Appetizer," "Entrée," and "Dessert" and be instructed to follow the order of the menu just as they would in a restaurant. Within each "course" students choose from a list of activities. The assignment sheet includes a Well-defined Description for how to complete a chosen activity, the Possible Points one can earn for it, and the textbook Section it covers. At least one task must be completed for each book section, although students are always free to choose their own tasks from the menu choices. After the completion of each "course," the teacher assesses the result in Points Earned before the student moves to the next one. In the dinner menu example, "Appetizer" activities focus on summarizing the overall content in each section of the textbook reading with activity choices like "Flash Cards," "Outline," and "Summary." "Entrée" activities center on a closer reading of details and give students an opportunity to be creative with options like make a website or travel brochure. For "Dessert" students must choose a short activity that provides an overall summary of the most important themes found in the entire textbook reading.
Example
For an example of a Learning Menu in action, see the video Differentiating with Learning Menus on the Teaching Channel website. In this video, Mary Vagenas uses a "dinner menu" strategy with her 7th-grade social studies students at the Queens School of Inquiry in Flushing, NY. Below the video and in the right-hand column under "Supporting Materials" one can find a sample Learning Menu and a full transcript of the video in Word (DOC) format.
Why is this a best practice?
Learning Menus are a method of differentiating instruction that provides flexible ways to engage students, and that can be adapted to various classroom environments. Students become familiar with different types of study methods that they can use to self-regulate learning in the future. Tasks can include simpler activities for struggling students and more complex activities to challenge advanced students. Continual assessment and feedback can help ensure that each student makes progress towards the learning goals. Learning Menus also liven up textbook reading activities by giving students choices about how to extract essential information. These choices can help motivate reluctant readers. However, no matter what a student chooses from the menu, he or she engages in actively reading and making sense of textbook content, helping build historical knowledge.