At a Glance
What is it?
Voicethread allows you to collaborate and to create a multimedia presentation combining images and video with text and audio commentary.
Website
VoiceThread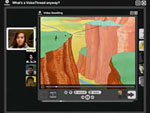 What is It?
VoiceThread is a popular web-based tool for creating and collaborating on multimedia presentations. Voicethread allows you to create a presentation combining images and video with text and audio commentary. The internet safety component is comprehensive; access to accounts and student work is carefully controlled. It's recognized by the American Association of School Librarians (AASL) as a tool and resource of "exceptional value to inquiry-based teaching and learning."
Getting Started
First, you'll need to setup a Voicethread account through the link in the upper right hand corner of the home page.
You can experiment with the program and create up to three VoiceThread projects free of charge. (Fees are nominal for classrooms and for school-wide accounts.)
Five choices are available for adding audio: computer microphone, telephone, text, audio file (mp3 or WAV), and webcam. You'll need a microphone if you're using your computer, and Voicethread provides instructions for setup and use and comment moderation.
The About page gives directions for using VoiceThread's presentation tools and K-12 solutions gives instructions especially for K-12 classrooms and answers questions such as "How do I add students to my school or class subscription?"
Examples
Once you've created your Voicethread account, search for curriculum-related sample projects on the Browse page to get an idea of the possibilities.
As you create a test project, you'll have the option of uploading images from your computer, Flickr, Facebook, or directly from among 700,000 digitized photos from The New York Public Library. The Voicethread blog discusses these import possibilities.
Staff members at the New York Public Library also have created learning modules, grouping historical images and other primary sources by themes and categories with audio commentary from historians and archivists.
Voicethread's digital library contains articles by teachers about classroom projects—including sections with helpful caveats on challenges and setbacks in implementing their lesson plans.