At a Glance
What is it?
Google is the big one, but good search techniques and other tools provide specialized approaches to web information retrieval.
Search Engines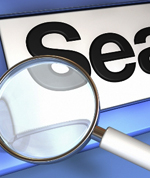 Search engines index the content of the web to create an information retrieval system responsive to queries for information. Descriptions of how that happens change rapidly as programmers and technological developments advance. Wikipedia provides one overview; About.com another; and the Library at the University of California, Berkelely, yet another.
However, more than 85 percent of online searches start with Google. It's the universal default search engine, a ubiquitous tool for beginning online research, and it's now a transitive verb inscribed in dictionaries.
Getting Started
Teaching students to search the internet effectively is an exercise in critical thinking and project planning. But let's face it: a Google search for Civil War, for example, yields over 122 million results in about a quarter of a second, and a Wikipedia entry is likely to be among the top five of those results. It's irresistible to explore the first dozen or so of the responses that appear without looking further. Of course, that's not really how we want students to conduct research. Research, in part, is about framing and refining questions, and good research practices at all grade levels mean coming to the game with a learner-appropriate preliminary plan for locating different kinds of information from different sources. Google for Educators offers Search Education lessons developed by Google Certified Teachers. Three modules—Understanding Search Engines, Search Technique and Strategies, and Google Web Search— Features offer scaffolded approaches from a basic overview to an advanced look at validating site authority. But Google isn't omniscient. Nor does Google—or any search engine—plunge researchers into the invisible or deep web—where academically-related material is likely to live among databases, private websites, and multimedia presentations. 
Doors other than Google open the invisible web.
A few basic research techniques, however, can help students to examine and refine their topic using Google and to evaluate what kinds of materials are most relevant and where these materials might be. Watch a demonstration of Extra Google Search Options, a three-and-a-half-minute video demonstrating how to narrow search results from many thousands to fewer than three dozen through the use of phrases and quotation marks, plus and minus signs. Common Craft videos are always excellent sources of technology how-tos, and Web Search Strategies in Plain English is no exception. The 2.5-minute video explains how search engines work, how to pick key words, and strategies for refining search results. Boolean searches emphasize the judicious use of three little words. Boolean Operators is a concise, three-minute video explaining the uses of and, or, not, and selected punctuation to narrow a search.
Examples
Other search options besides Google help students find specialized resources and to define research parameters. Beyond Google is a downloadable seven-page booklet by Maine social studies teacher Richard Byrne offers a variety of alternative search engines and platforms leading to specific resources to help students broaden and deepen their selection of research sources.
KidsClick offers prescreened, searchable options for younger students.
The American Library Association offers similar gateway for younger students, Great Web Sites for Kids. Noodle Tools guides students and teachers through an entire research process from information-gathering to organizing materials and creating and formatting bibliographies. Noodle Tools includes the subscription service, NoodleBib, a collaborative note-taking tool available to schools and libraries. An extensive set of Free Tools, however, helps students locate research sources, identify the best search engines, create bibliographies (including basics for grades 1-5), and includes a special section of Teacher Resources.
Specialized search engines focus on sounds and images.
Sounds and Images
Looking for audio for a multimedia project? Soungle is a database of royalty-free, downloadable sounds from drums and church bells to 64 kinds of gun noise, 99 trains, 27 horses, and 33 for rain. The database is not transparent, so the challenge is guessing what search terms or keywords may yield results. Compfight is an easy way to search Flickr for images. Set the search menu to Creative Commons only, and search results will yield images in the public domain. Shahi is a visual dictionary that combines content from Wictionary with images from Google, Yahoo, and Flickr to give both text and visual definitions for keywords.