At a Glance
What is it?
An online game that gives students a chance to run their own presidential campaign.
Website
Win the White House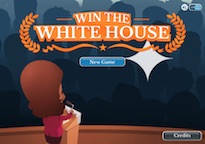 Win the White House is an online game that allows students to simulate a presidential campaign of their own. This includes debating, completing primaries, choosing a vice president, fundraising, making appearances, and more.
Getting Started
Visitors can register to play Win the White House or play without registering (both options are free). However, if the player is not registered, they cannot continue a campaign later. Win the White House works on both Macs and PCs.
To start, the player chooses a candidate, slogan, political party, and issues that they focus on, such as environment, health care, and voting laws. For older students, topics such as gun control and gay marriage are included. (Throughout the game, they will have to periodically answer questions regarding their platform or the platform that their opposition supports.) They then begin their political campaign. For support, as well as examples of use and teaching plans for the game, check out Win the White House: A Game Guide for Teachers.
Examples
During the political campaign, students will painlessly review the details of running a campaign, including how the electoral college works and how those votes are weighed, as well as how important political marketing is.
Playing the game can point out to students how many factors contribute to the progress and success of a presidential campaign. As students play, make sure they notice and use the four blue buttons at the top of the play screen map to view the states through different filters as their campaigns progress. With these buttons, they can remind themselves how many electoral votes each state has, see how the popular vote is going, keep track of states' momentum (are states leaning red or blue?), and check how much money each state still has available to fund campaigns.
Although Win the White House is a learning tool, it is also a game, adding motivation to learn and presenting students with many choices. Note that the game provides an assessment of how well the students achieved their objectives at the end, which can help teachers measure student comprehension. Win the White House can help teachers see how well students understand both the political process and the media's potential to influence the outcome of an election.
For more information
Looking for more high-quality games for use in the history or civics classroom? iCivics, creator of Win the White House, features more than 20 online games on topics ranging from municipal planning to immigration to the Bill of Rights. Check out our Tech for Teachers on Do I Have a Right? for our take on one of iCivics' more addictive games.
Not certain how best to use games for teaching? High school teacher Jeremiah McCall shares his tips for getting the most out of games in his six-part blog series.