KeepVid
Question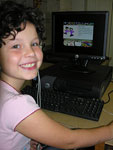 My district blocks ALL access to online video. What is the best method to save online clips (at home) in order to show them in the class?
Answer
There are several different options available for teachers who would like to download and save online clips. Perhaps the easiest is to use a free service such as KeepVid.
Using KeepVid is a simple process. First, find the video clip that you wish to download. This might be at YouTube or another video sharing site such as DailyMotion or Vimeo. Copy the URL of your video clip and paste it into the Search box at KeepVid.
KeepVid will then give you several file format types to download. Selecting the file you want (usually the MP4 version) and it will start the process of downloading the file to your computer. Once the download is complete, it can be played with whatever video player you prefer to use.
KeepVid allows you to search for videos rather than the copy and paste method. Simply type in keywords such as "Battle of Gettysburg" and KeepVid will search YouTube for you and provide a list of results. Selecting a video from the list will start the same process described above.
KeepVid also has a bookmarklet that can be dragged onto the taskbar of your browser. The bookmarklet acts as a shortcut—you can skip the copy and paste process completely. For example, simply go to YouTube, find your clip, and click the installed bookmarklet. KeepVid does the rest.
While teachers and students do have more freedom under the Fair Use clause of the Copyright Act, it's always a good idea when using online video clips to think about intellectual property. The traditional view of copyright is adapting to the new world of online media, so I have included links to a variety of resources on copyright below.