Just Blog About It! (Part 2)
Question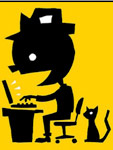 Does Digital History change the way that we write history or the way that we use our sources?
This post is a continuation. The first section addresses the questions: What do digital historians think about blogs? Can we take them like a source? and can be accessed here.
Answer
The short answer to this question is, yes, digital history has begun to change the way that we research and write history. Some of this question is covered by Robert Townsend's post on this site about how new media tools are changing history. Dr. Townsend's post discusses a couple of new tools beginning to be used by historians in the Digital Age, either to visualize data in new ways (including spatial tools like GIS) or to analyze mass quantities of textual data (like Google Books' N-Gram Viewer and some of the work being done using that and other vast digital repositories of books). To build on Townsend's post and more directly answer this question, I would note three other ways in which digital history is currently changing the way that we write history and use our sources.
One: Accessibility
Although not every book, article, or document is available online, a remarkable number are available in full, or at least are searchable.
Arguably the single biggest impact of the digital age on historians' use of sources (archival and secondary materials) has been in the area of accessibility. Because of digitized documents and books, students, teachers, researchers, and writers now have access to more historical sources than ever before with some very significant democratizing implications for the study of history. Although not every book, article, or document is available online, a remarkable number are available in full, or at least are searchable. The text of millions of books can be searched through digital repositories such as Google Books or even Amazon's Inside the Book feature. Magazines, newspapers, and scholarly journals can be searched from a variety of databases. Digitized census records are available from 3rd-party companies such as Ancestry.com. Archival collections of documents, images, videos, and audio are being posted by the institutions and individuals who hold them and by interested researchers and companies. Visit the Teachinghistory.org Website Reviews to search on specific topics or time periods. One big issue that limits the democratizing potential of this digital accessibility is that while a remarkable amount of this material is free, a large portion of it is only available in restricted form (such as a limited number of pages from a book), or only with a paid subscription. In tight financial times, individuals and institutions will have to make some tough choices about which of these digital resources they are willing and able to afford. Even so, there is an incredible array of specialized research that can be done using existing digitized collections, such as those available at the Library of Congress or the National Archives.
Two: Using Multimedia
The second major impact of digital history on the writing of history has to do with the new media that are available when writing history online. The ability of blogs and websites to easily include multimedia sources enriches the character of the work, while potentially complicating the process of writing rigorous scholarship. Digital historians have to work to ensure that these multimedia additions enhance rather than distract from the goals of their projects.
The online world makes it possible for digital historians to show their readers their evidence, not just as a footnote to a source but as an actual link...
Yet the online media environment also allows for an enhanced version of an old standby for historians, the footnote. The online world makes it possible for digital historians to show their readers their evidence, not just as a footnote to a source but as an actual link to the document, image, book passage, video, or music in question. For example, Townsend's post mentioned the American Historical Review article by Ed Ayers and Will Thomas on two counties in Virginia and Pennsylvania as an example of an historical use of GIS. It's also the most detailed example of this idea of embedding of the evidence in the work, allowing the reader to judge the validity of the whole argument for themselves.
Three: Crowd-Sourced Projects
Third, digital history offers a number of opportunities for professional historians, teachers, and students to contribute as part of decentralized group (crowd-sourced) projects of historical interest. In some cases these are sponsored by well-known institutions such as the Library of Congress. The LoC placed thousands of photographs into their own Flickr account, and invited the public to comment, tag, and discuss their images. Many of these images lacked identifying information which people were able to contribute. Another well-known crowd-sourced project, Wikipedia often gets criticized by historians both rightly—there are mistakes in it—and wrongly—it is intended to be an encyclopedia, not a scholarly monograph or article to be cited by researchers. However, it represents a remarkable example of collective, decentralized knowledge creation. (Lee Ann Ghajar has a nice Teachinghistory.org post on the issues of Wikipedia as research source here.) A few historians and teachers have used writing for Wikipedia as a way for students to both contribute to a larger body of historical knowledge and to better understand the differences between historical fact and historical interpretation. In less prominent venues, wikis can be used as tools of group authoring and creation, such as this local history class project discussed in the AHA's Perspectives magazine. These are just three ways the digital world is changing the way history is done. What other ways can you think of?