At a Glance
What is it?
This collection of Holocaust survivor and witness interviews allows students to connect with 20th century history and improve digital and media literacy.
Website
IWitness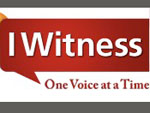 IWitness is a free resource developed by the USC Shoah Foundation Institute to help students develop a deeper understanding of 20th-century history alongside digital and media literacies. It houses approximately 1,000 Holocaust survivor and witness testimonies and allows students to construct multimedia projects using the testimonies. Users need only an Internet connection; all of the tools—including an online video editor—are self-contained on the server and are compatible with both Macs and PCs.
Getting Started
In order to start using IWitness, click here and select "register." Once registered, you will be able to create classes and generate access codes students can use to register.
Teachers are using IWitness as a way to integrate 21st-century literacies into a range of subjects.
Even prior to registering, the IWitness home page features a rotating group of curated clips. These short clips run less than five minutes and draw learners into compelling stories. Linked from the home page, the Browse All Topics page provides more clips from a breadth of topics to anyone visiting the site. Registered users are able to search among more than 1,000 full-length testimonies, then save clips from the testimonies for use in projects. Testimonies have been indexed to the minute with keywords. If, for example, students search for "music," they will get a list of clips where the interviewee discusses music, and they can go right to the exact minute in which music is discussed in a testimony. Users also can narrow search results in various ways.
Once signed in, you should go to your "Dashboard" to get started exploring IWitness. From here you will notice videos located on the left side under "Connections." The Connections videos will help you address important topics with your students: ethical editing of video clips, effective searching, and defining terms like "archive" and "testimony." There is an Educators page designed to orient teachers to the site and highlight available resources. There is also a resource tab on the top of the screen with links to reliable information. For students and teachers alike, IWitness offers a Tool Kit, which can fly out from the right side of the screen. The Tool Kit provides users with quick access to their assigned activities, as well as to an encyclopedia, glossary, and note-taking tool.
IWitness has numerous activities you can assign to your students. More than 200 activities are available in several languages and cover an array of subjects from the Holocaust and genocide to cinema and media & digital literacy. Different types of activities present information in diverse formats and can be filtered for different age or subject levels. "Information Quest", for example, focuses on a single survivor or witness of the Holocaust. Students listen carefully for information in testimony clips and then reflect on their learning by using, among other things, a world cloud tool. As an educator, you are also able to build your own activities for your students in IWitness with the "Activity Builder". The additional resources offered on the "Resources" page provide bibliographies, glossaries, and timelines that may be useful when assigning activities for students to build or complete.
Examples
IWitness allows students to learn about . . . the 20th century while creating meaningful projects and making connections with their own lives.
Teachers are using IWitness as a way to integrate 21st-century literacies into a range of subjects, including social studies, language arts, media studies, psychology, and more. One history teacher built an IWitness activity so his students could compare and contrast the Hollywood portrayal of the Sobibor Uprising in film with how survivors of the event remember and describe it. Through his IWitness activity "Escape From Sobibor: Hollywood and Memory," his students were able to use critical thinking as they watched testimony and compared it to the film, then select clips of that testimony to construct a more historical depiction of daily life in the concentration camp.
You can also use IWitness to help teach online etiquette and respectful dialogue skills. Within IWitness, students finish their activities by viewing and commenting on their classmates' projects. This is a great way to spark conversation that can continue in IWitness through social-media-style commenting tools. Teachers are able to mediate conversations and communicate with students within the application. IWitness also provides reminders to students about good digital citizenship when communicating with their peers within the site. IWitness allows students to learn about important events in the 20th century while creating meaningful projects and making connections with their own lives.
For more information
Want to learn more about IWitness? See Teachinghistory.org's Website Review for more information.
Looking for more resources on the Holocaust? Teachinghistory.org has gathered website reviews, lesson plans, teaching strategies, and more on the Days of Remembrance of the Victims of the Holocaust spotlight page.