At a Glance
What is it?
A digital design tool home to over 10,000 different templates.
Website
Canva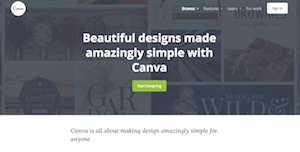 Canva is a website that has compiled over 50,000 different templates for over 60 different uses. Templates available for use include book covers, flyers, comics, and dozens more. After selecting a template that fits your need, you can either customize it online or print it out and fill in by hand. Canva also allows you to join teams of 10 that can work collectively on a project. The creative possibilities for Canva are endless, both in and out of the classroom.
Getting Started
In order to use Canva, you will need to set up a free account. Once you've signed in, Canva will introduce you to the site by showing you the main pieces of the interface. This walkthrough will only occur your first time, so make sure you pay close attention. If you need further help, Canva also offers a tutorial for new users. Once the tutorial concludes, you will find yourself at your main home page. This page is known as your design gallery and templates you work with will be stored here. You can use the recommended designs or click "explore templates" on the left side of your screen to begin. A new tab will open on your browser which will allow you to search or browse the templates Canva has available. One of the best features of Canva is the ability to create your own template from scratch. This gives you more freedom to create unique template for your own needs.
Once you find a template you like, click on it and you will be taken to another page to edit it. On the left side of your screen will be the different layers you are able to edit on your template to make it truly one of a kind! Once you are finished editing your project, at the top of your screen you can choose to share it online, download it in a variety of formats including .png and .jpg, or order prints of it online.
Examples
Canva has several patterns to make handouts, worksheets, and projects look much more professional. Try searching 'social studies' on Canva's template search. Fun templates such as timelines, history book covers, and historical book reviews templates are just a few of the available options.
Canva also allows students to create their own accounts and work in groups of up to 10 together on group projects. This option allows them to work together both in and out of the classroom on collective projects. Each student can 'remix' the design that is shared between them and suggest changes to it.
Teachers have found dozens of ways to utilize Canva in the classroom. Jacqui Murray, a K-8 educator, has a list of 13 ways to use Canva including ideas such as making homework badges or venn diagrams. Global Digital Citizen also offers more unique and in-depth projects that can be made through Canva that show how creative you can get with your ideas. Finally, Canva has a dedicated section of their site just for educators. It features project ideas, lesson plans, discussion posts for teachers, and the necessary materials that are needed for using Canva in the classroom.
While thinking of how to use these templates in new ways, try thinking of how you can inspire students to use unexpected templates for historical purposes. Perhaps they are sending a postcard from the Oregon Trail. Or maybe President Lincoln gave them a business card. You could even leave this part up to the student and see what kind of fun ideas they come up with. Whatever it is, Canva will definitely have a template for it.