At a Glance
What is it?
Sutori is a digital tool that allows teachers to gather their material in one spot and present it as a story.
Website
Sutori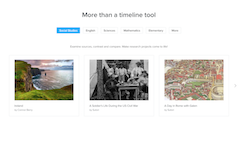 Sutori is an interactive teaching tool that lets users create story timelines that can include photos and documents. Sutori gives users full control over how they present their topic with a variety of different options available for use. These different sections are then compiled into one page, essentially creating a full teaching module.
Getting Started
Before creating your first story, Sutori requires that you create an account. Sutori offers three different levels of accounts, however there is a "Sutori Essential" account for free. Sutori Essential allows you to add just images and text to your story. Essential also allows your students to work on story timelines together, giving them the option of working together in class or from home.The first of the paid subscriptions is Sutori Unlimited. When you first create your account, you will be given a free 30 day trial of the unlimited plan. With Unlimited, you will have access to include audio, video, quizzes, polls, and forums in your digital stories. Premium, the next level up, allows you to create even more stories while offering the same editing tools.
Once your account is made, click "Start Creating" and begin adding content to your storyline. Before creating your first story, it may be helpful to view Sutori's walkthrough on how to create a story.
A great aspect of Sutori's story making is that there is little technical knowledge needed. Adding content to your story is as easy as clicking the blue "+" button and selecting the media format of the source you would like to add.
Once you are happy with a specific section of your story, simply click on the blue "+" again, and it will take you to the next box of your story. Continue adding as many boxes as you'd like until your story is complete.
Once you are finished, click "add conclusion and sources" at the bottom of your story to wrap it up. Click "Share" in the top right to get the link to your story which can be shared on various social media platforms, as a link, or as an embedded code. You can also make your Sutori story private, viewable to only those that have the code.
Examples
As a teacher, Sutori is an easy way to keep all your materials for a lesson organized. An excellent example of a polished Sutori story made with the Unlimited plan comes from Jessica Roe, who created a story about the US Government System. With over 40 different pieces, 5 quizzes, 4 videos, and multiple images, this story functions as a full presentation about the US Government. Through the various feedback boxes along the story, Sutori allows teachers to gauge engagement and understanding of subject matter.
Another excellent example of a well-made Sutori story is about why the Alamo is an essential landmark of Texas. Teacher Laura Moore has created an interactive Sutori using the Unlimited plan that engages the students by letting them live out a role of someone connected to the fort. Featuring dozens of photos and interactive videos as well as several questions to challenge students, this Sutori shows how creative you can get with your story timelines. At the end of her timeline, Ms. Moore also connects her Sutori to other digital teaching tools, such as Thinglink. Sutori benefits from connecting stories to other digital tools, so be sure to read through some of our other guides and see if you can come up with ways to connect other tools you are using in the classroom to your Sutori stories.
Sutori was created with educators in mind. They offer a whole section of their website to providing teachers with premade stories, outreach, and more ways to integrate Sutori with other digital tools. A helpful story created by Kim Gremminger also provides examples of how to use Sutori in the classroom. There are also dozens of premade stories available to teachers across several different studies. Try searching for stories with specific tags such as "American History," "Social Studies," or browse the recommended resources.