At a Glance
What is it?
Poll Everywhere is a comprehensive surveying tool that offers a variety of polling options.
Website
Poll Everywhere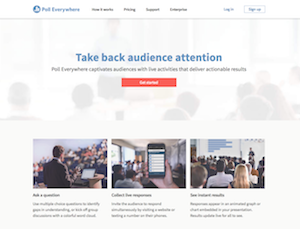 Polling tools, such as Poll Everywhere, allow students to participate in teacher-created quizzes, polls, and surveys. Polling is also a great way to encourage full class participation. You can begin class by polling students about last night's homework or end class with an exit survey. Most surveying tools are hosted through smartphones, however any student with the specific code can participate on tablets and computers too.
Getting Started
When first arriving at Poll Everywhere, create a free account and log in. Then, choose if you are the presenter or participating in a poll. As a teacher, you should select "presenter" and have your students select "participating." After you continue, you will now have access to the various polling tools Poll Everywhere has to offer. This is also your homepage for editing and saving polls. Here, you are also able to link together different polls to create "groups" that act as a single survey. That way, you can use more than one polling technique for each survey. There are 23 tools offered on Poll Everywhere; some of the most popular being:
Multiple choice
Word clouds
Question and Answers
Clickable Images
Rank Order
Surveys
Open-ended questions
Choose whichever fits your lesson best and begin filling in the parameters. The various polling methods require different pieces of information from the poll creator. For example, for a multiple choice survey, you will need to plug in the questions and multiple answers. For a clickable image, you will need to upload and section off parts that should be "clicked". Should you need any more help creating your first poll, visit this step-by-step guide video created by Poll Everywhere. Surveys featuring more than 10 questions can be lengthy in design, so plan accordingly. After you finish your survey, you will receive a code. This code will allow students to join your now-active survey. Once your students are all accounted for you can begin polling.
While creating your poll, make sure it allows you to add enough students to the group. Be sure to also check and see how many quizzes you can create per month. Poll Everywhere has different plan levels for educators. These plans usually feature more responses per survey, more surveys per month, and several other customizable features. Plans are also sorted by student education level, so make sure to find a plan that fits your specific needs. With several options available, finding a plan that works for you should be easy.
Examples
Since polling now is easier than ever before, teachers are finding creative ways to implement these tools in their lessons. Hosting a poll after finishing a lesson can allow students to rethink the material they just learned. It also allows shy students who may not feel comfortable raising their hand to answer questions room to participate. By allowing students to compete against their classmates about what they learned, you are turning a review of materials into more of a game. Poll Everywhere details this "gamification" more in a blog post here.
A new feature Poll Everywhere provides are clickable pictures. AP English teacher John Damaso describes how he uses Poll Everywhere to combat stagnation in the classroom using clickable pictures. For social studies teachers, you could use pictures to review sites of famous battles or birthplaces of leaders. You could upload a site such as Gettysburg and ask students to click where specific events took place. Another example on how to use clickable pictures would be to upload a primary source and have students identify the different pieces of it. When was the source created? Who is the author? This allows students to interact with primary sources and identify the important pieces.
Polling services provide excellent feedback on what students do or don't know. The University of London came up with 8 ways to use Poll Everywhere in the classroom, and what those different techniques can tell you, the teacher, about your students. By utilizing the anonymity of Poll Everywhere, you can ask students questions that they may not feel comfortable answering out loud. Similarly, the University of Massachusetts also created a list of ways to use Poll Everywhere in the classroom and offers detailed explanations of what information each poll provides to the teacher. As Mr. Damaso states in his post, "No one's ever groaned and said, 'Oh, I don't wanna do a poll."
For more ideas on how to use polling and survey tools, visit Poll Everywhere's blog on using their tool in classrooms.