At a Glance
What is it?
Neatline is a digital tool that plots digital collections to an interactive map.
Website
Neatline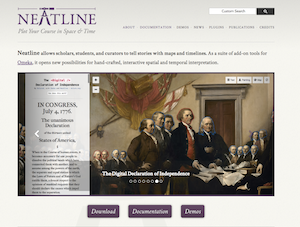 Neatline is a plugin for Omeka that anchors collections of items or images in Omeka to digital maps. This can be helpful in visualizing where events took place and also allows students to interact with primary sources attached to an event. You are also able to upload your own map, allowing for past events or fictional places to be explored as well.
Getting Started
Since Neatline is a plugin for Omeka, you will need to familiarize yourself with how to use Omeka first. Our page devoted to using Omeka is a good place to begin. Neatline is available for use only on the downloadable Omeka client and not on the browser client, so make sure you follow the correct steps in order to download Omeka. The page also describes how to download plugins for Omeka, but just in case, Omeka provides a page that walks you through downloading and activating a plugin. Once you have Omeka installed, download Neatline and activate the plugin.
After following the download and setup instructions, you will find Neatline available for use on Omeka. Before hopping right in, it is recommended that you look over Neatline's introduction to their plugin. Once you feel confident, start creating your collection of items in Omeka and filling in as many data points (subject, description, date, etc) as you can. Do this for each item in your collection until you are finished.
After finishing your Omeka collection, those items will now be available to map in Neatline. Clicking on the "Neatline" button on the left will take you to a blank map to begin working on your project. Click "New Record" and fill in any information you would like attached to the item you are plotting on the map; title, description, and location are required. Continue these steps for each item in your collection until your map fills in nicely. Once you are finished, Neatline will take you to a page with your final map on it. Your map can be viewed on the Neatline website which you can share via a website url. Neatline also provides you with a code that you can use to share your project with the world. This code can be exported as a link to share on social media sites or as an embedded map on a blog or website.
Examples
As an educator, you can create your own collections and maps to support your lesson plans. Maptherebellion is a great example of how a collection of primary sources can be overlaid on a map to give students a better understanding of a historic event. The Digital Declaration of Independence is another example of just how in depth one could go with the Neatline program.
Finally, a unique way that Neatline can be used is demonstrated with the "Our Marathon" project. Instead of mapping items on a digital map, they utilized the spacing tool to map out responses on a poster remembering the Boston Marathon bombing. Unique ideas like this show that if you think out of the box, Neatline can be used in astounding ways.
Map based collections are a great way to teach students the importance of primary sources. They are able to grasp what it means to collect data based on a certain criteria. Students are also able to gain an appreciation for the geographical significance of events by seeing these collections on a map. No matter what you map, it'll be a fun and interactive way to get students excited about historical collections.