At a Glance
What is it?
PrintFriendly was designed for the eco-friendly teacher. Cut print time and document length by using these tools to rid online documents of unnecessary features.
Website
PrintFriendly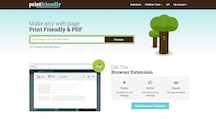 We're spending more time online, reading and researching with our students. We often need to print out these online resources for use as handouts or review materials. One of the problems with online research is that if you or your students print out a news article, a blog post, or just about anything on the web, the print job ends up being multiple pages that include ads and other things you don't need.
But wasting paper is not the only concern. Ed tech folks often talk about the powerful impact that appropriate use of technology can have on learning, especially with online tools. The assumption is that web use by kids increases brain wiring—that being online makes students smarter. But we need to be careful with those sorts of assumptions.
A Wired article does a great job of documenting what happens in our brains when we're online. And it's not necessarily always good. The article's author, Nicholas Carr, discusses a wide range of research claiming that hyperlinks, especially those that live inside text, cause comprehension problems.
"People who read linear text comprehend more, remember more, and learn more than those who read text peppered with links."
"It takes hypertext readers longer to read documents and they were seven times more likely to say they found it confusing."
"Comprehension declines as the number of links increase—whether or not people clicked on them."
So while online resources are powerful tools for learning, they can waste paper and decrease understanding if not used appropriately. What to do? Using two free online tools can help.
Getting Started
One of the best tools to help you and your students save paper, ink, and time when printing from websites is PrintFriendly.
You simply copy and paste the URL of the article or post that you want to print into the PrintFriendly site. You'll get an editable version of the page that lets you delete images, resize or change fonts, and delete specific pieces of text. This allows you to create the perfect document ready for printing. You can also email the document or download it to your desktop as a PDF file.
PrintFriendly offers the option to install a browser bookmarklet. Once installed, the bookmarklet allows you to simply click a button on your browser's task bar whenever you're on a site you want to print.
Examples
As a presidential election heats up, government teachers ask students to review candidates and read online stories of primaries. But many of the news organization websites contain multiple internal links, video clips, and ads. Students have difficulty combing through these distracting elements. A teacher can train students to install the PrintFriendly bookmarklet and use it to create a clean version of the article's text. For those classrooms without one-to-one computers, a teacher could use either one of the tools to print and hand out clean copies of the article.
PrintFriendly is a handy tool that will help you and your students save paper and increase comprehension. And the bonus? It's free.