At a Glance
What is it?
A multimedia tool that lets users annotate images with text, videos, links, and more
Website
ThingLink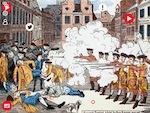 Starting out with ThingLink is straightforward—you have two choices for accessing ThingLink: create an account at ThingLink.com or download the ThingLink app. In either case, new users have to register for an account. There are no additional downloads necessary to use the tool and the media you utilize in your graphic may be drawn from your own computer or sourced from the web. The website is accessible on either a Mac or a PC.
Getting Started
The first step to creating a ThingLink is adding a background image. This is the image that will always be visible and on which other content will be placed. The image can be selected from folders on your hard drive, imported from Facebook or Flickr, or pulled from any website (just provide the link when prompted).
Next, choose a title for your interactive image and add content. Images, videos, and descriptions are embedded in the image through "tags," little clickable icons that appear when you hover your mouse on the background graphic. To add tags, simply click on the image and a prompt will appear with a menu of icon options, and space to add text. A search bar is available and content may be drawn from Etsy, Amazon, Vimeo, YouTube, and Soundcloud. It is also possible to insert content from other sources—just add the link. The tags you create can be positioned anywhere on the background image and it is possible to rearrange them after you've placed them.
At the bottom of the edit screen is a menu for sharing options. Clicking on "Sharing Settings" gives you the option of making your graphic public or unlisted. It is also possible to allow others to access and edit your graphic by adding tags. This function could be useful for collaborative work with students. After your multimedia image is saved it can be shared with others using the "Share" button. The ThingLink can be shared in two ways: the link can be sent directly to others or the interactive graphic can be embedded in another site—class webpages for instance.
Another feature of ThingLink is the "Stream," It is possible to add other users to your stream and to follow their work. Objects made by other users are also available in the Browse tab. Both of these are useful for inspiration and collaboration.
Examples
There are a multitude of uses for ThingLink—in fact, its biggest feature is its flexibility. Students can work together to create a ThingLink to present research information to classmates. A shared "Stream" enables students and teachers to view each other's work and edit or add tags as needed.
Another key application may be the aggregation of information that ThingLink enables. In these two examples the image is used to organize information and the tags link to media or provide descriptions or instructions. Tags can also be applied to images to explain classroom tools or content. These static interactive images can be embedded on websites or shared with the class and accessed by inquisitive students at any time.
ThingLink may also be used in class instruction. Students can be asked to interact with an image like this one, which provides a number of examples and in-depth information for the audience. Maps or images may be used to describe locations in greater detail, show relationships, or explain movement through space, as seen here. Another example, here demonstrates how adding tags can be used by an instructor to demonstrate how to access information in texts or give advice on reading and research skills. It may also be useful to break down larger information into bundles or point out structure and other features.
Need inspiration on your ThingLink? Browse the Education Blog to check out Teacher Challenges, webinars, and virtual field trips!
For more information
Looking for base images to use with ThingLink? Lee Ann Ghajar shares reputable places to go hunting.