At a Glance
What is it?
Keep track of research and collect assignments with this web-based note-taking tool.
Website
Evernote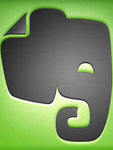 As more of us move into blended environments that focus on anywhere/anytime learning, the need for practical tools increases. How can we and our students best save, share, and manage content?
Evernote can help. Available in both free and paid versions, Evernote, at its most basic level, is designed to help you and your students take notes and access those notes wherever they are and whenever they want. These notes can be as simple or complex as the user needs them to be, from simple text to notes containing images, video, and audio clips.
What makes Evernote unique is that it lives on three different types of platforms: as installed software on your desktop, as a web-based tool accessible through your browser, and as a mobile app. When you enter a note on your smart phone, that note is automatically synced to your desktop and the web. If you edit that note on your desktop, the changes become part of the note on your mobile device. This ensures that all of your content is within arm's reach no matter where you are.
Getting Started
To get started, you will need to create a free account at www.evernote.com. You then have the option of installing the desktop client software (both Windows and Mac). Be sure to go to the Android Marketplace or Apple App Store to download the mobile versions of Evernote. (The software also supports Windows Mobile and Blackberry.) It is possible to use just the mobile and web versions of Evernote but you'll want the desktop version as well. The desktop version is faster, easier to use, and includes a number of great features not available on the mobile and web versions like drag and drop, live update functionality, note content encryption, and local notebooks.
Evernote even has the ability to recognize printed and handwritten text within photographs and images.
Evernote has a useful Quick Start page with screenshots and step-by-step instructions that will walk you through the entire process. There's also a great set of support documents. Once you've created your account and installed the needed software, you are ready to starting creating notes.
Notes can be just about anything: lectures, to-do lists, clips and text from websites, audio files, video clips, photographs with captions, or essay rough drafts. Evernote even has the ability to recognize printed and handwritten text within photographs and images. Called Optical Character Recognition (OCR), this allows you to take a picture with your cell phone of the lecture notes on the projector screen or brainstorming on a whiteboard, post the image to Evernote, and that text becomes searchable within Evernote. To organize your notes, you label each note with a series of tags (keywords that you manually attach to each note that allow you to filter and search for content). You can also place your notes into Notebooks. For example, you might create a 4th Hour Notebook or a U.S. History Notebook. If you want, these Notebooks can be shared on social media sites such as Facebook or as separate URLs.
Examples
Students can use Evernote to organize their information but you can also use the software as a paperless assignment delivery tool. For example, you may want middle school students to analyze the three Reconstruction Amendments and discuss the impact they continue to have in the United States. Using the Our Documents website for background information, students can copy and paste portions of the Amendments into the Evernote app as they finish their summaries. Taking advantage of Evernote's ability to insert photos into their summary and their own voices as audio notes, their work becomes richer and deeper than with text alone. Once finished, they email you their work for easy online access.
Evernote's ability to live in different worlds while encouraging the creation of a variety of note types provides both you and your students the flexibility needed to thrive in the anywhere/anytime world.
For more information
Evernote Premium
The basic version is free with 40MB available per month for uploading and slower OCR performance, while the paid version gets you a 1GB a month allowance, priority OCR, better security features, offline access to notes, collaborative notes, the ability to view previous note versions, and support.