At a Glance
What is it?
Wikis are multi-authored, editable websites for creating, managing, and tracking group projects and activities and building idea and resource exchanges.
Wikis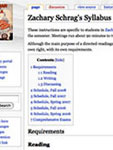 What is it?
Wikipedia is the best known wiki, but do you have to create an encyclopedia to use this tool? Can you adapt the format to your class and specific lesson modules or use it for professional development and communication? Absolutely!
Wikis are websites that allow you to create and edit any number of interlinked web pages. They're used for collaborative work that can be created and changed online.
Unlike blogs where content comes from a single author supplemented with the comments of others, wikis are open to multiple authors working in tandem. They are recommended for creating, managing, and tracking group projects and activities and building idea and resource exchanges. Wikis—and Wikipedia certainly is the most prominent and largest example—can be limited to only a few contributors or open to unlimited participants. They are an effective platform for team work for students and educators and can be ongoing or project-specific.
As Wikis in Plain English from Common Craft on YouTube explains, the edit-save-link basic features of wikis enable you to plan the simplest project, or "the world's greatest encyclopedia."
Getting Started
You need a computer, an internet connection, and a provider to host your wiki. Wikispaces, one of the most popular in the K-12 world, offers free wikis for educators as well as fee-based services for entire school systems. A screencast demo tour sends you on your way from introductory steps to create your wiki to how to upload files to establishing RSS feeds.
In practice, wikis let you select an edit tab, and add material, topics, and pages, or edit both your material or that of other members of the wiki group—and you can incorporate audiovisual and image files as well. In the classroom, students can collaboratively author texts, keep class notes, and develop projects. For teachers, they can become, among other uses, communication tools for professional development and resource sharing within a department, a school, a region, or nationwide.
Examples
The California-based Computer-Using Educators, Inc. (CUE) answers the question, Why wiki? pointing out When students are using wikis they are "learning how to develop and use all sorts of collaborative skills, negotiating with others to agree on correctness, meaning, relevance, and more." (from Will Richardson Blogs, wikis, podcasts, and other powerful web tools for classrooms, 2006)
Deerfield, Illinois, uses a wiki for professional development, supporting technology integration & 21st Century Skills literacy throughout the school district.
Educational Wikis links to examples of a variety of projects, from classroom wikis to curricular subject-oriented wikis.