At a Glance
What is it?
A whiteboard is a touch-sensitive screen that turns your computer into an interactive chalkboard and multimedia site for presentations and activities.
Whiteboards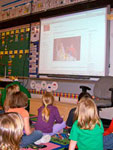 What Is It?
A whiteboard (sometimes called Smart board or Promethean board after two prominent manufacturers) is an interactive medium that lets you turn your computer into an interactive chalkboard and multimedia site for presentations and activities. It's a touch-sensitive screen displaying your computer screen, connected through a standard USB plug and and a digital projector. You can write and draw on the board—and so can your students— and access materials with remote devices so that lessons engage an entire class. Board of Education: A Wall-Mounted Computer Monitor for Your Classroom defines the interactive whiteboard as "one of the best things to happen to classroom technology in the last twenty years." Why? The whiteboard makes students active participants in the instructional process and its adaptability engages diverse learning styles and addresses multiple intelligences. Whiteboards enable the teacher to bring more and diverse educational resources into the classroom to enhance learning.
Getting Started
Becoming comfortable with whiteboard technology is, of course, critical, and a number of internet sites offer multimedia tutorials. Curry College provides a series of tutorials as screencasts, including customizing and modifying the technology. A PDF specifically for the SMART board model is available for download. Smart Training Center has posted two-minute how-to tutorials.
The internet is well-populated with how-to audiovisual presentations on whiteboards.
There are over 5,000 results for tutorials posted on YouTube, accessible through a simple search using the term, whiteboard. Smart Board Revolution, a Ning networking board includes tutorials, lesson plans, and tips for effective whiteboard deployment. 
Examples
Advanced Whiteboard Techniques, a 15-minute video on Schools World TV, shows examples of how to extend basic whiteboard skills with a focus on older elementary school children. The video demonstrates making hyperlinks, integrating storytelling software, and adapting computer games to create an immersive environment for literacy instruction. (This video published in 2005 is from the United Kingdom.)
Integrating Technology in the Classroom, a Vimeo posting, demonstrates the advantages of the whiteboard (Promethean)—particularly for visual learners. Teachers from first grade through high school, in the general education curriculum and specialized courses such as Latin classes, discuss how whiteboards engage their students. This is primarily a marketing video; however, examples demonstrate diverse instructional applications. 
A California seventh-grade teacher talks about integrating whiteboard technology into the curriculum and engaging students in its use: A Clean Slate: Interactive Whiteboard Makes Lessons Snazzy.
Whiteboards engage students K-12 and address different styles of learning.
Are students ever too young to use technology in the classroom? Watch this video posted on Edutopia from Auburn University Early Childhood Education Center: Beginning the Journey: Five-Year-Olds Drive Their Own PBL Projects. (Examples of interactive use of the whiteboard for literacy learning and for modeling best practices in internet use begin at about -2.25 seconds into the presentation.) In Sydney, Australia, kindergarteners demonstrate how whiteboards engage them in learning. Parents and teachers offer their own assessment. SMART Technology SMART Board video contest winner, a four-minute video posted on YouTube, stresses how interactive whiteboards in the kindergarten classroom impact all learning types, including students with special needs.
For more information
Whiteboards have been in classroom use long enough to allow assessment of their value as educational tools. The SMARTer Kids Foundation project library includes online copies of research papers about the effect of whiteboard use in the classroom. Research papers based on K–12 experience run the gamut of curricular subjects as well as studies about whiteboard use in special education. The Influence of Technology Such as a SMART Board Interactive Whiteboard on Student Motivation in the Classroom, a study of eighth graders in a small rural school in Indiana, demonstrates a link between the use of technology and student motivation in the classroom.