Crafting Digital Stories
Question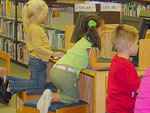 I teach early elementary school, and my students are learning about the differences between past and present. Is there a tool that would allow them to share their learning (mostly using images) online with others?
Answer
With the explosion of Web 2.0 resources there is no shortage of tools for carrying out the types of activities you describe. It is not my place to endorse particular resources but I can comment with confidence from personal experience using a few of these tools and having great fun in the process. I tend to teach older students so you may want to check these resources out before exposing your students to them. On the other hand, when I do work with younger students it is usually in one-day workshop sessions and there is never much doubt by the end of the day who understands the software better! I think it is the lack of fear, which younger students seem to have in experimenting with technology. Anyway, some suggestions:
Wallwisher
I know you suggested that you would mostly be working with images but Wallwisher is great if you want to post up words. It is an electronic pin board and you literally write notes and pin them on. I had some 13-years-olds assess some software for me and they posted their views—good points and bad points—here and here.
VoiceThread
As a resource for sharing thoughts about an image or a movie clip VoiceThread is pretty hard to beat. It was designed specifically for educational purposes and ideas and thoughts can be shared in real time or left as posts. It has been extensively researched and trialled, so there is a good deal of supporting literature available to help you develop the way you use it. Here are some examples of history-themed VoiceThreads.
Historypin
Historypin is great for establishing a local connection to history. It is very similar to Google Earth's pin features. You upload an image, pin it to a location, and then complete a commentary box.
Xtranormal
This may seem a little crazy but it is such fun! Essentially students script animated films for selections of characters. I have used it with students of all ages. Younger students create short films in which they play different characters and either explain particular events or share their confusion over an issue. I have found Xtranormal a very effective tool to get older students collaborating outside the classroom, principally preparing for tests—essentially they present an answer to a test question and then their peers comment on that answer. Movies can be posted on YouTube.
Stripgenerator
This is a tool similar to Xtranormal, but it uses still images. It is very simple to use and allows students to take a range of characters and tell a story with them.
Prezi
Prezi is already being used by a lot of teachers as an alternative to PowerPoint. I won't try to explain Prezi here. A quick look at the sample projects which have been created will be far more articulate, eloquent, and absorbing!