At a Glance
What is it?
Web Poster Wizard is an all-purpose web publication tool used for both project and classroom management and for projects and presentations.
Website
Web Poster Wizard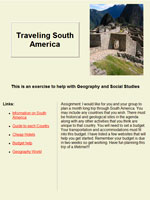 What is It?
This tool should win prizes for user friendliness.
Web Poster Wizard allows educators to create a lesson, worksheet, or project and immediately to publish it online. With this tool, students can create posters or short reports in a poster format and add images and links to their pages. The teacher can post directions and resources. In effect, with Web Poster Wizard, you are creating websites for individual projects, for classes, or as communication venues.
Getting Started
Web Poster Wizard gives you access to online storage, step-by-step instructions, and basic project templates. Once you register and login (a simple process requiring only your email address and a password), site management tools enable you to set up your classes, to assign projects to students, provide materials and resources, and to manage content. The centralized login combines students and teachers in one account.
Read Web Poster Wizard Guidelines and Requirements first. As the Guidelines explain, all you need to get started is a plan. You then create your project pages, and each page can include a title, subtitle, image, text block (which permits 10,000 characters, or about 4 pages of text), and a navigation bar to related links. Step-by-step directions take you through setting up and editing your pages.
Examples
This 7th Grade Language Arts teacher uses Web Poster Wizard as a management tool.