Central Question: What was the economic and social impact of the Panic of 1873?
What Textbooks Say
Textbooks differ in their treatment of the Panic in significant ways. Most tie the depression to the national political controversies surrounding Reconstruction. Too often, textbooks combine the Panic with the political scandals which rocked the Grant administration. While certainly a source of the political crisis facing Republicans in the 1870s, the roots of the Panic run far deeper than merely Grant's poor political skills.
[...] »
What Historians Say
The Panic of 1873 stands as the first global depression brought about by industrial capitalism. It began a regular pattern of boom and bust cycles that distinguish our current economic system and which continue to this day. While the first of many such market "corrections," the effects of the downturn were severe and, in 1873, unexpected. In 1873 modern economic adjustments were unknown and the ability of national authorities to control the money supply was immature. As a result, the Panic of 1873 led to the longest recorded economic downturn in modern history.
[...] »
What Sources Say
Limited by the amount of gold held in the U.S. Treasury, access to currency and credit contracted sharply, interest rates skyrocketed, and investors were forced to pay off their high stakes gambles (made with cheap paper dollars) with hard-earned gold. Sources bring to light the integral nature of bimetallist theory and its effect on the economy rather than the political climate and scandal that surrounded the Federal Government.
[...] »
Abstract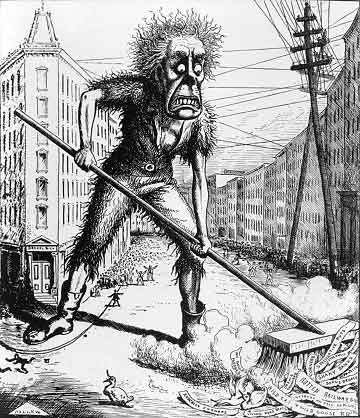 Most Americans are familiar with the Great Depression, beginning in 1929, and the economic safety nets established in response to the crisis, such as Social Security and the right to collective bargaining, from 1933 to 1938. Some know of the equally dire economic conditions, starting in 1893, and how this spurred federal progressives like Teddy Roosevelt, William Howard Taft, and Woodrow Wilson to strengthen public oversight of corporate trusts, child labor, banking, monetary policy, and tariffs. Yet almost no one knows of the profound economic collapse that struck the United States following the Civil War or its equally substantial effect upon the social and political trajectory of the nation. The Panic of 1873 began in Europe, but quickly spread to the United States producing 65 months of depressed economic conditions.
Read the full essay and explore the sources. »