At a Glance
Description
An oral history of 1968, as told by a variety of Rhode Island residents, focusing on Civil Rights and Vietnam.
Producer
South Kingston High School and Brown University Scholarly Technology Group
The Whole World Was Watching: An Oral History of 1968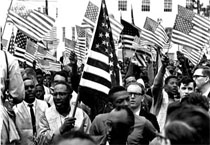 This site contains transcripts, audio recordings, and edited stories from interviews, conducted in the spring of 1998 by sophomores at South Kingstown High School, with 31 Rhode Islanders about their recollections of the year 1968. These narratives, including references to the Vietnam War, Civil Rights movement, and the assassinations of Martin Luther King and Robert Kennedy, as well as personal memories, are a living history of one of the most tumultuous years in United States history. The project includes a glossary, timeline, and bibliography of reference, as well as notes from the project coordinators about oral history in the classroom.